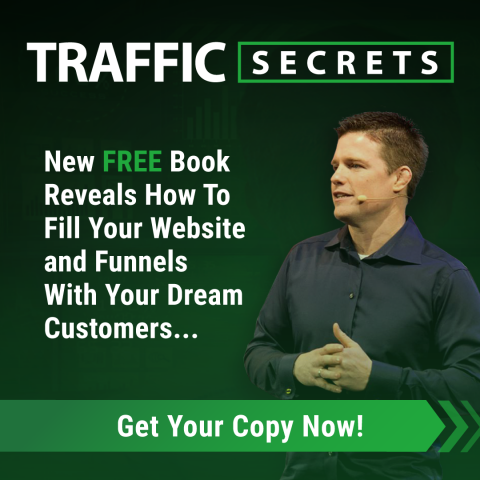 - September 14, 2020 /PressCable/ —
A new lead generation book launched by Russell Brunson, called Traffic Secrets, hit the NY Times Best Seller list. Traffic Secret offers expert-led guidance on how any business owner and marketer can drive more traffic and capture more leads for their businesses' websites and sales funnels.
More information can be found at https://rebrand.ly/traffic-secrets-2020
The newly launched book covers 20 insider strategies to generate more traffic on an ongoing basis. These are designed to be applicable to both new and experienced business owners, with a focus on helping more entrepreneurs to succeed online and offline.
Readers will discover that the first section of the book is centered on the ideal customer for a business. This is an important notion to consider because it forms the foundation of entire marketing campaigns.
The first secret covered in the book is how to identify who the ideal customer is, and how to enter into the conversation that's happening in their mind. This is a unique method for developing the most effective conversion strategies.
Secondly, entrepreneurs will learn where to locate their dream customers. This allows them to optimize their lead generation approach to ensure they're getting the best results.
Other elements of the book cover engaging content creation so that business owners are better able to connect with their prospects and compel them to click through to the website. Insider traffic generation solutions are covered in detail so that business owners can safeguard their company against algorithm changes.
The next two sections of the book cover filling up your funnel with leads and growth hacking. Filling up the funnel revolves around maximizing traffic generation results through proven and results-backed methods.
This includes a 3-5 minute daily strategy, tips for leveraging Google to improve brand awareness and reach, and the best content creation routines to get in front of more potential customers.
Growth hacking revolves around tapping into other people's distribution channels so that clients can reach wider audiences. The combination of these modules gives affiliate marketers all the tools they need to succeed and grow their business.
The newly launched NY times Best Sellers book is free and aims to help entrepreneurs get more traffic to all their sales funnels. Full details can be found here https://rebrand.ly/traffic-secrets-2020.
About the author (2020)
Russell Brunson started his first online company while he was wrestling in college. Within a year of graduation, he had sold over a million dollars of his own products and services from his basement. Over the past 15 years, he has built a following of over a million entrepreneurs, sold hundreds of thousands of copies of his books Dotcom Secrets and Expert Secrets, popularized the concept of sales funnels, and co-founded the software company ClickFunnels, which helps tens of thousands of entrepreneurs quickly get their message out to the marketplace. He lives in Idaho with his family.
Bibliographic information
Title – Traffic Secrets: The Underground Playbook for Filling Your Websites and Funnels with Your Dream Customers
Author- Russell Brunson
Contributor- Dean Graziosi
Publisher- Hay House, 2020
Release ID: 88976625