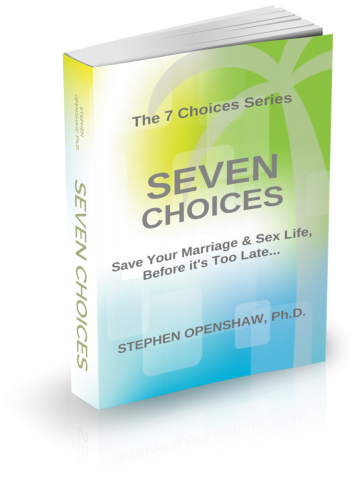 - December 7, 2017 /PressCable/ —
Stephen Openshaw, Ph.D., a clinical psychologist, has launched his brand-new book, "Seven Choices: Save Your Marriage & Sex Life, Before it's Too Late…" Available through Amazon, it is targeted at couples who want to improve their relationships. For a limited time, readers can sign up to get a free copy at: http://www.7choiceslife.com
When asked about why he wrote the book, Openshaw said: "I was motivated by the sudden and unexpected loss of my marriage of 25 years, and inspired by the many couples I have counseled during my 30-year career." 
This is the first book Openshaw has authored, and it will be followed with additional books in a planned series. It was written to help couples save their marriage before it is too late. There's also particular excitement about this launch because Openshaw has condensed all his years of training and experience in couples therapy into a simple structure of the best strategies he has encountered.
The book is expected to become a big hit with couples who want to improve their relationships.
More information on the book can be found on the website: http://www.7choiceslife.com.
Stephen Openshaw, Ph.D. is a Hawai'i resident. Inspired by his Aunt Marion, he had a lifelong dream of living in Hawai'i, and he feels very fortunate to have made that a reality more than four years ago. His subsequent divorce from his wife of more than two decades helped shape the creation of the book. Openshaw urges couples to make every moment count and keep love alive.
Openshaw has hopes that the book will help couples support each other as great partners, rekindle the romance in their relationships, communicate better and truly understand each other, and know where to focus their efforts to keep love alive. He started writing the book many years ago, and set it aside when his wife left. He was encouraged by a friend to finish the book. It took on a new emphasis as a reflection of his own experiences.
In a recent interview, the author said, "Love is the best of all that life has to offer."
Openshaw made a point of thanking his many friends and family members for their editing support and inspiration, saying: "This book would not exist without the encouragement of my friends to finish it. I'm very excited about the opportunity to help couples avoid the experience I had with the sudden loss of my marriage."
Originally from Southern California, Dr. Stephen Openshaw received his Masters and Doctorate in Clinical Psychology from Purdue University in Indiana. Before moving to Hawai'i, he practiced as a Clinical Psychologist in Fullerton, California. He continued to work with couples and had a general psychotherapy practice for many years. He was actively involved in various roles with St. Jude Medical Center in Fullerton for 30 years, and was a member of the Medical Staff until 2013. After moving to Hawai'i, he has worked as a counselor embedded in various Marine Battalions for a year at a time, including infantry, artillery and intelligence battalions.
Release ID: 274532