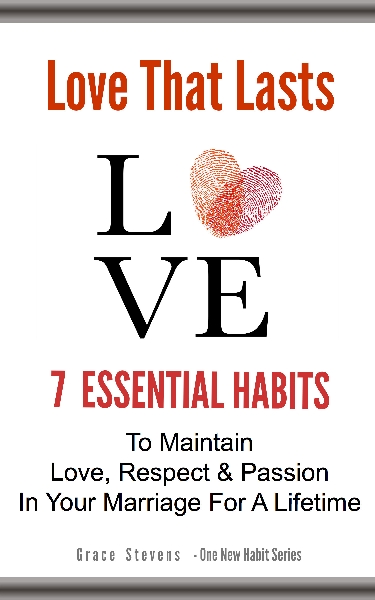 - June 6, 2015 /PressCable/ —
One New Habit Book Series has published a new marriage self help book specifically designed to help couples maintain love, respect and passion in long term relationships. In the familiar format of the One New Habit Books Series, the new title,Love That Lasts, lays out seven essential habits couples can master to set up their relationship for continued growth and success.
Interested parties can find ebook, paperback and audio versions of the book on Amazon or via the author's website http://GraceStevens.com
This latest book in the One New Habit Book Series contains step-by-step instructions that are designed to be used by couples interested in maintaining the health of their long term relationship.
Sample habits outlined in the book include:
How to keep passion alive – specific strategies on how to maintain passion and how to discuss intimacy in productive ways.
Fun and innovative ways to maintain connection in relationships – including 26 inexpensive activities to get couples out of the "date night" rut.
Common sense tips and strategies for avoiding emotional and physical flirtations that can be so harmful to relationships.
Although Love That Lasts is geared towards helping new couples set up healthy relationship habits, the information can also be helpful to any couple stuck in a relationship rut. One Amazon customer reviewer notes,
"This is a great self help book for anyone who would like some easy and practical suggestions for maintaining a strong and loving relationship with your spouse or significant other. Even if you don't feel that you need to "fix" anything in your relationship…Just creating a few of these new habits will help even the happiest couples."
Anyone interested in improving long term relationships can find Love That Lasts on Amazon. All of the titles in the One New Habit book series can be found at http://onenewhabit.com/
Release ID: 83578