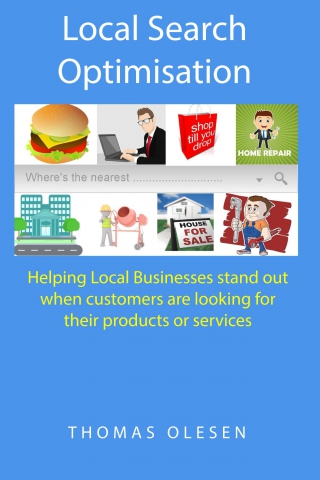 - May 8, 2017 /PressCable/ —
This book originates from the United Kingdom but would be applicable for any local business anywhere in the world. A local business is one that relies on its location for its customers either because they come to it (shops, restaurants, hotels etc.) or because the business visits them within a defined radius (plumbers, electricians, builders etc.) or a combination of both. It is particularly applicable to multi-branch businesses such as Franchises or Chains.
The book's sub-title is "Positioning your business to be found by customers eager to buy now. The modern marketplace is dominated by Google and accessed primarily via smartphones."
The Foreward has been written by Dan Kelly MBA DipMC – Executive Director – BNI Norfolk Ltd. The majority of BNI members are local business owners or managers. With over 211,000 members in 7,800-plus chapters worldwide, BNI is the world's leading referral organisation. In 2016 alone, BNI member referrals generated $11.2 billion USD in revenue for its members. He had this to say
"The first thing that impressed me about this book is the credentials of the author.
Thomas's experiences absolutely qualify him to write this book.
His motivation to assist local businesses resonates with the aims of my company BNI and me personally.
The simple yet fundamental to online search advice offered by this book comes at you like a high speed train.
Thomas is on a mission to help local business owners use what is readily available to them, with or without a website.
I commend both him and this book to you."
What many people don't realise is that a local business can rank quite well in online search results even if they don't have a website. According to research, more than half of all online searches are "local" these days and that usually means that the person searching is looking to make a purchase. Local Search Optimisation, therefore, should be taken as seriously as other forms of customer acquisition such as print advertising, online advertising or website search engine optimisation (SEO).
An extract from Wikipedia on Local Search is "Local Search is the use of specialized Internet search engines that allow users to submit geographically constrained searches against a Structured Database of local business listings. Typical Local Search queries include not only information about "what" the site visitor is searching for (such as Keywords, a business category, or the name of a consumer product) but also "where" information, such as a street address, city name, postal code, or geographic coordinates like latitude and longitude. Examples of local searches include "Hong Kong hotels", "Manhattan restaurants", and "Dublin car rental". Local searches exhibit explicit or implicit local intent. A search that includes a location modifier, such as "Bellevue, WA" or "14th arrondissement", is an explicit local search. A search that references a product or service that is typically consumed locally, such as "restaurant" or "nail salon", is an implicit local search."
This book covers Local Search Optimisation only and does not go into depth on related topics such as paid advertising or SEO unless they relate to Local Search Optimisation. The great thing about Local Search Optimisation is that it is essentially free to set up unless a consultant is hired to help and, once set up, it costs nothing to acquire new customers.
Release ID: 194756