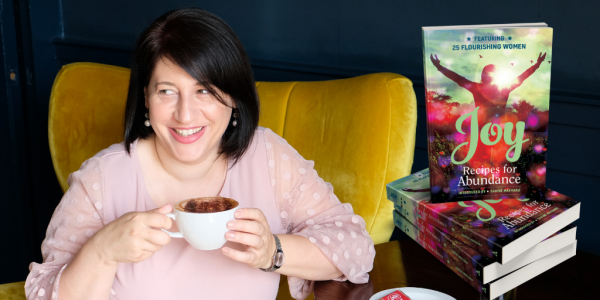 - February 2, 2020 /PressCable/ —
Sabine Matharu, director of Reach for Greatness is a passionate business coach for women who want to create their online empire. She has just announced the launch of her second book "Joy – Recipes for Abundance".
This is the second in a series of four books and offers inspiring, lived ideas for all women to awaken to joy and features a collection of 25 inspiring stories of entrepreneurial women, who share their recipes for joy and abundance through tales of overcoming, determination and gratitude.
From nutrition, travel and community to spiritual practise, compassion and self-realisation, they each reveal their unique recipes towards creating a joyful and abundant life, available to each of us.
Sabine adds that this series of books was born through "inspiration" and "taking inspired action" as she had a vision to "go and write a book with 100 women".
The result was that within a short space of time, she had attracted a large community of flourishing women to create a grasping, high quality read with many 'aha-moments' where the reader finds "truth" and the realises that we are all human.
This masterpiece is totally unique as each woman shares their 'Recipe for Abundance' with a bit of a twist as they are baking up their own 'joy cakes' with 1 spoon of kisses, 2 hugs and a cup of courage.
The book also includes beautiful colour imagery designed by her husband Pritpal Matharu who is a cutting-edge graphic designer and has totally captured the essence of this book with his flair for design and detail.
Through these real and heart-warming stories, the women are confident that as a collective they are able to create a much larger impact and help shift people's consciousness that will create a more peaceful world.
Joy – Recipes for Abundance is available to purchase now and comes with a variety of powerful bonuses which the co-authors have created, such as business training, meditations and advice for different lifestyle areas so it complements the book and helps the readers take action toward a more joyful way of living.
https://www.learnmoreabout.info/joy
Release ID: 88944917