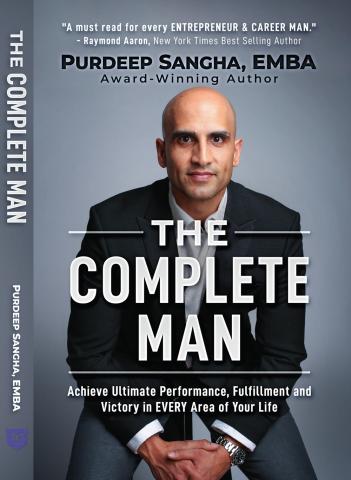 - November 13, 2020 /PressCable/ —
Male entrepreneurs who are looking for the latest strategies to boost their business and life have a new book packed full of strategies and systems for success. The Complete Man is a book on how to achieve ultimate performance, fulfillment, and victory in every area of life.
The highly anticipated book release is by best selling author Purdeep Sangha, founder of The Complete Man. An organization dedicated to helping male entrepreneurs to elevate performance and success in EVERY area of life.
The new book includes Personal Performance Frameworks designed to help male entrepreneurs to get astonishing results with less time and less effort by dramatically increasing productivity and influence.
This is great news because, with enhanced performance, male entrepreneurs can expect to get more done with less time and energy. This means more money and time to spend with family and on the things that bring men lasting happiness and fulfillment.
The Complete Man is also packed with essential business & life strategies for male entrepreneurs. Businessmen should get a lot from these strategies because they help male entrepreneurs experience greater results than their wildest dreams.
Within Purdeep's inner-circle of elite Male Entrepreneurs, he's seen businesses explode with growth, relationships, and marriages renewed, men becoming better fathers and leaders, plus men getting back and shape, reconnecting with their faith and finding happiness and fulfillment in EVERY area of life.
And if you're an Alpha Male, then this book is especially for you as Purdeep speaks about how driven alpha males have professional success at the expense of being happy and fulfilled. How men think they have to choose either success, family, or happiness. In The Complete Man, Purdeep shows male entrepreneurs how to have it ALL without compromise.
Purdeep Sangha, when asked about The Complete Man, said:
"The Complete Man is the modern man's handbook for having it all"
This is Purdeep's second book, and he's incredibly excited about this release because this book will change men's lives as the first book for male entrepreneurs that focuses on what it takes to succeed as a man in business and life.
The fact is, male psychology, biology, and drive are unique and require a specific blueprint for optimal performance. So in The Complete Man, I breakdown mindful Alpha Male neuroscience, psychology, and spiritual systems for enhanced performance and how to apply it into a business for growth and life for happiness and fulfillment.
These are the same techniques and systems I've used in my life and with clients to transform businesses, marriages, relationships with kids, faith, body, and every area of male life. My book is decades of research and application distilled down into the science of becoming The Complete Man who experiences Complete Victory.
Those interested in getting a free copy of the book can go directly to https://the.Completemanbook.com/free-book (Purdeep's on a mission to change 1,000's of men's lives, so he's offering the book for free until December 3rd, 2020)
Those interested in learning more about the business can do so on the business website at https://purdeepsangha.com
Release ID: 88985590