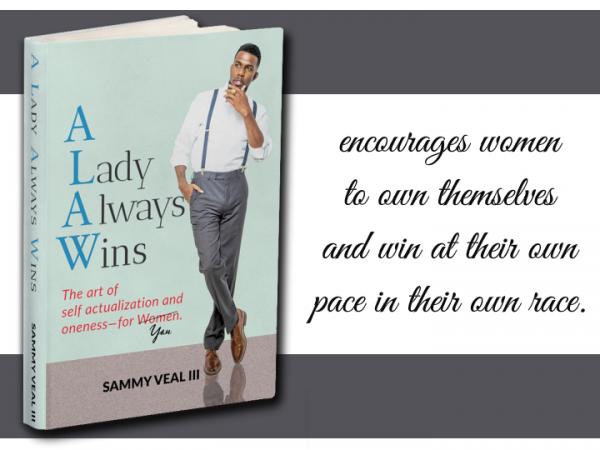 - November 22, 2019 /PressCable/ —
American author, philanthropist, personal and relationship specialist Sammy Veal is launching His brand new book, "A Lady Always Wins." The book is set to go live November 25th, but is currently available for pre-order, and is expected to become a big hit with individuals looking for a different voice. As a proud father of 3, "2 suns and 1 princess," Sammy Veal's work stems from life experiences of poverty, homelessness, witnessing domestic violence, spiritual conflict, and strong community that fills in the holes of abandonment and socio-economic violence.
More information on the book can be found here: https://www.drvealgood.com
This is the First book Veal has authored. The book was written with the aim and ultimate purpose on addressing how to repair our relationship with relationships. Veal states "If we are self actualized and secure within, it makes it a lot easier to maintain healthy relationships with people. Rather that be family, friends or spouse. A lack of insecurity and increase in transparency and honesty on a person by person basis, is key to elevating society to a higher frequency and ultimately a better future." There's also particular excitement about this launch because of the potential the book has to rapidly increase any individual on this planets pace of growth and overall potential. The challenge is the prize with this book – Relationships with people.
A Lady Always Wins sets its main focus to guide people in their path to self actualization. Readers will likely find a particular interest in the unique perspective and style Sammy Veal chooses to exchange dialogue and information between sexes.. The book's cover art was created by King David Creations / Dani E. John and A Lady Always Wins is being released by Kryptonite Ink LLC..
Sammy Veal has a background and earned certifications in general psychology, child psychology, and life coaching. Also as an ordained minister he is able to provide counseling to the couples he chooses to wed. He boasts a 100% success rate so far and that is mostly credited to his ReVeal and ReNew program all of his married couples enroll in, and their dedication to each other and their commitment. Veal's background helped shape creation of the book by putting him into a position to see the "other side" of things. Being able to have this broader perspective, Sammy has honed his experiences into words on the pages of this book. .
When asked about why he wrote the book, Veal said: "Accountability, dependability and an open mind have always been at the very core and remained a staple in every relationship I hold close. As an empath, the kind of energy I keep around me is very significant to how I feel and move. For that reason, I am very specific about who I'm around and why. When I was called to write this book, I understood that it would take a dedicated effort from not only myself, but from the important people around me."
Veal has hopes that the book will aid women in the climb to self-actualization and the healthy sharing of oneself.. This positive outlook from the author is certainly a testament to his optimism considering some of the mishaps during its creation. At one point there were challenges to overcome to even get the book written, another flagrant obstacle was the editing. Veal had to go through many rounds of editing and still wasn't satisfied with the product received, causing him to form his own publishing company. Veal says "Finding quality and affordable printing for hard cover books was a challenge, and so was getting my team and website on the same page as far as marketing was concerned. This all after two total and complete rewrites." The process took a total of 7 years since inception of the idea, making for quite a long journey.
In a recent interview, the author made a point of thanking Clifford Franks, David & Denise Butler, Reggie Jackson, Reggie McNair, and countless others. for their part in the creation of the book. Veal also gave a special highlight saying: "Miss Cheryl Dearborne. You have been my most trusted adviser throughout the whole second half of this entire process and I can say with absolute certainty, that without you, this project would not be the same. In my experience, it's been very rare occasions when you can meet someone in life that 'gets it and gets you.' You are one of the very few people who always got it about me."
Those interested in learning more about the book can visit here: https://www.drvealgood.com
Release ID: 88935495