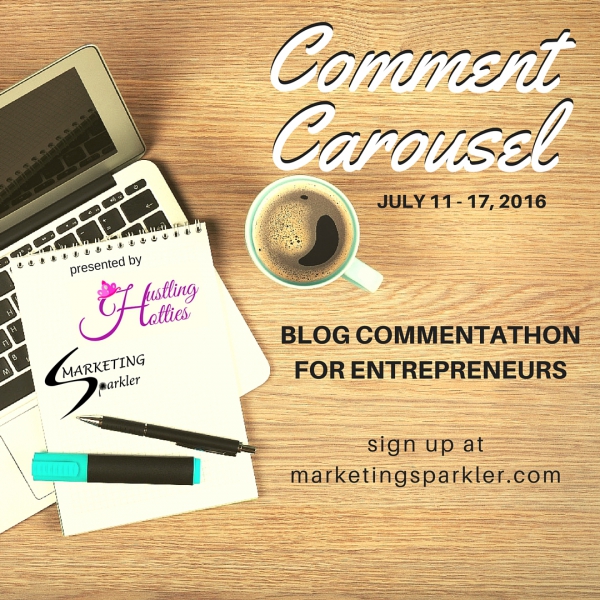 - June 23, 2016 /PressCable/ —
Business Bloggers looking for more blog traffic and comments, plus insights on blogging for small business can register to attend Comment Carousel Blog Commentathon scheduled for July 11 – July 17, 2016.
Marketing Sparkler, in partnership with Hustling Hotties, is hosting this year's event, which will cover key issues such as:
Get Massive Comments On One Epic Blog Post – A comment-worthy post starts with meaty content. Learn what makes a meaty post, how to decide on authority-building topics, and publish a post that includes key elements for readers to leave comments.
How to Leave Meaningful Blog Comments – The Blog Commentathon is a give and take challenge. Bloggers will learn how to go beyond a generic "nice post" comment and leave meaningful blog comments on each others blogs. Bloggers will learn how to add to the conversation and connect with other bloggers in the comment section through meaningful comments.
Use Social Media to Get More Blog Traffic – Most bloggers hit publish, share the new blog post on social media once, and forget to create a plan for going back and recycling their blog posts on social media. Learn how to use social media as an automated blog marketing tool.
In addition, there will be an affiliate program and contest for participants. Each host will be giving away goodies to encourage bloggers to share the Blog Commentathon with their friends.
Full details on the event can be found on the company website at http://marketingsparkler.com.
When asked about the reasons behind creating this event, the host of the event, Miss Kemya said:
Many lifestyle bloggers (non-business bloggers) participate in blog challenges and link parties on a regular basis. That's how they grow their audiences, by blogging in tandem and commenting on each other's posts, then sharing them across social media. Comments and challenges can be an an effective way to build a community around a blog for entrepreneurs as well. Business bloggers should join the Comment Carousel Blog Commentathon if they're looking to to increase their blog traffic, expand their audience, build a community around their blog, and boost their SEO rankings with traffic and comments. Business owners are always looking for ways to network and collaborate. Participating in the Comment Carousel Blog Commentathon challenge will help entrepreneurs to accomplish these goals, and so much more.
The Marketing Sparkler website has full details about the purpose of the 7-day event, in addition to registration information. Interested parties can visit the website at: http://marketingsparkler.com.
Release ID: 120541