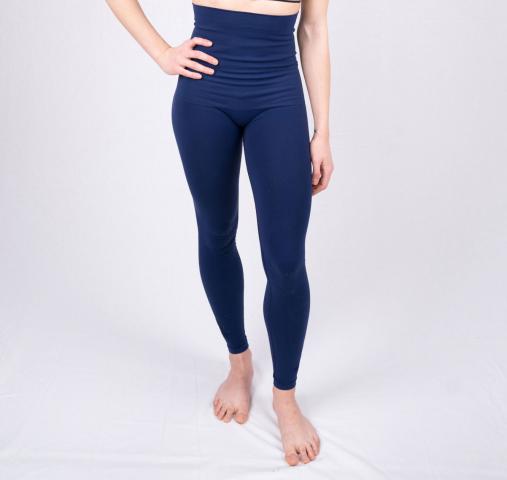 - June 28, 2018 /PressCable/ —
Shamanth Pereira, a former investment banker, has just launched on kickstarter the next innovation in high waisted performance leggings that combine the slimming of shape wear, the durability of active wear and the modesty and style of outerwear. Unlike its predecessors, Invisibelly's unique combination of old and new, preserves traditional Ayurvedic belly wrapping tradition with modern day compression technology to create perfectly fitting leggings for women of all shapes and sizes.
How did InvisiBelly come into existence? After having children, Shamanth was struggling with losing weight, looking and feeling good. She didn't want to continue wearing maternity clothing any more than necessary while most of the high street items were rigid in sizes which meant she had to purchase new sized clothing regularly, as she lost weight. This experience taught her that there probably were countless women who felt the same way as she did, including professional career women.
Her "aha" moment came when she thought of infusing the old belly wrapping tradition, that her mother had gently been coaxing her to look into, with modern day technology. She tested what she found on the market, while the compression mimicked Asian belly wrapping, she knew she could design a better product.
So how is InvisiBelly different from regular leggings? Here are just some of the unique features:
– Provides shaping at the belly and one inch above – no more tugging at your leggings every time you stand up.
– 100% opaque – no underwear will show through.
– 360° compression technology. Made of 90% polyamide and 10% elastane for that toned look which eliminates the muffin top.
– 360°compression support also reduces soreness and improves circulation, cutting down muscle fatigue while fully supporting your belly area which only helps with post workout muscle recovery it is also safe and comfortable to wear postpartum.
– Retains shape as it moulds to your body, even if you drop a dress size.
– Silicone gel non-slip waistband ensuring the waistline won't slip, dig, roll or cut at your waistline.
– Seamless construction providing a smooth fit.
– Anti-microbial. Built in anti-microbial technology helps fight odor causing bacteria so your leggings stay fresh and clean for longer.
– Moisture wicking technology enabling you to stay dry and comfortable all day.
– Stylish enough to be worn for work while comfortable enough to wear at home.
– Product and packaging are both environmentally friendly.
Invisibelly is available for Pre-Order on Kickstarter starting at $79 . For more information visit https://www.kickstarter.com/projects/1706328462/invisibelly-next-generation-of-shapewear-leggings
Release ID: 368517