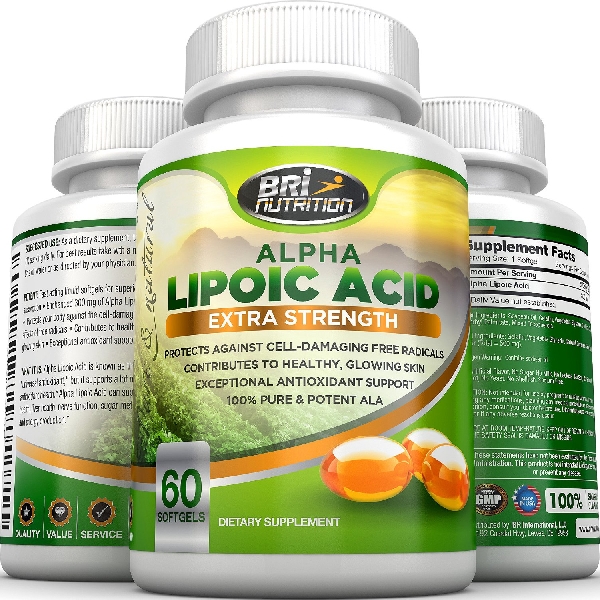 - February 16, 2015 /PressCable/ —
BRI Nutrition continues to launch more nutritional supplements this Q1 2015 signified by its newest release of its Alpha Lipoic Acid Supplement (ALA) via Amazon. This latest health nutrition formula from the company uses 100% pure & potent alpha-lipoic acid to protect against cell-damaging free radicals, while simultaneously contributing to healthy skin.
Recent reports also attribute ALA it to weight loss. A recent study reported in the American Journal of Medicine and published by foodconsumer.org, shows that products such as BRI Nutrition's Extra Strength Alpha Lipoic can cause weight loss in obese individuals. In the 10-week study, 97 women received Alpha Lipoic treatments. The study concluded that Alpha-Lipoic acid supplementation alone, or together with EPA, helps promote weight loss in healthy overweight/ obese women following calorie-restricted diets.
"In addition to studies such as that published by the American Journal of Medicine, other sites such as WebMD tell us the effects of products such as our Extra Strength Alpha Lipoic go even further. For instance, WebMD states that that Alpha Lipoic Acid benefits include the ability to improve state of severe ailments such as type 2 diabetes, and the neuropathy (nerve damage) associated with it." said Samantha Bray Lockton, Director of Business Development for BRI Nutrition.
"It's wonderful to know that products such as our Extra Strength Alpha Lipoic can also even assist in day-to-day weight management for individuals seeking to lose weight. Combined with many of our products, such as one of our latest, Top Rated Extra Strength Fucoxanthin, the two are sure to provide assistance to anyone looking to lose weight in a healthy, consistent fashion through proper diet and exercise," added Lockton.
BRI Nutrition's Extra Strength Alpha Lipoic Acid is available via Amazon at 60 count soft gels per bottle for a 2-month supply. The product is made available in soft gels for easier and faster absorption of ALA in the body.
About BRI Nutrition
BRI Nutrition, based in California, is a manufacturer and distributor of a variety of health supplements such as Phytoceramides, Resveratrol, and Yacon Syrup. The company has been transforming high-quality nutritional and natural supplements for years, with the mission to help people in their pursuit of optimum health and wellness. Their products are manufactured in the USA, under an FDA-registered production facility.
Release ID: 74829