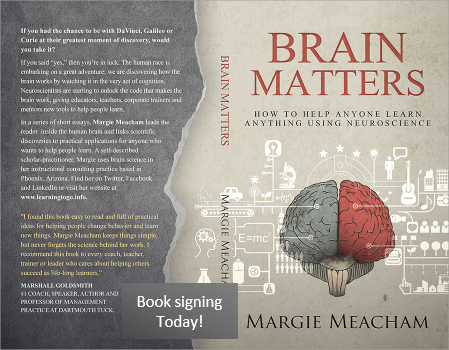 - August 18, 2020 /PressCable/ —
LearningToGo has launched a new online course called " AI in Talent Development: Capitalize on the AI Revolution to Transform the Way You Work, Learn, and Live," The workshop is based on Meacham's new book by the same name, and is designed to help teachers, instructional designers and training managers prepare for the introduction of artificial intelligence into the work place.
More information can be found at: https://learningtogo.info
The site explains that LearningToGo is designed to help site visitors educate themselves and live the life they want. The team of highly trained experts combine the latest validated discoveries in the converging sciences of neuroscience and AI.
Through her experience in these fields, Meacham aims to help people improve cognitive function, happiness, and work-life success. LearningToGo is a global leader in brain-based training and education. The focus is on providing innovative learning experiences for clients.
Founded by Margie Meacham, a top-rated author on Amazon and a global leader in the use of science for personal development, Learningtogo has established a reputation as a leading online resource for growth.
The company provides custom workshops and online tools to train, develop and encourage personal growth in their site visitors. Whether the prospect is a teacher, athlete, parent, trainer or online coach, they will find something to help them achieve their goals.
Now the new course has been launched as a way to showcase a new way of learning online. It explains that all over the world people are using AI to manage their bank accounts, book travel, and find quality products. Now it's possible to use the same technology to learn new skills.
Chatbot Revolution is the first online course to explain how the brain responds to a conversation with an intelligent machine. Through hands-on activities, participants will benefit from the key concepts of machine learning and neuroscience to develop a new way of thinking.
The creators state: "In this hands-on online course, participants will move from concept to prototype as they plan, design and build a working prototype by the end of the day. They'll use white boarding techniques to envision how the chatbot will work and download free, easy-to-use tools to develop their first bot without complicated software or programming skills."
Full details can be found at https://www.learningtogo.info/
Release ID: 88971184