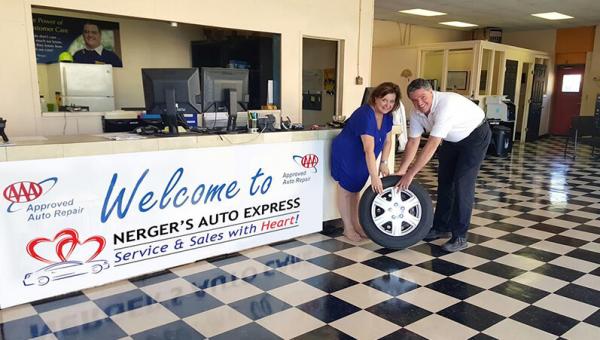 - September 21, 2021 /PressCable/ —
Nerger's Auto Express, in Bound Brook, New Jersey is proud to announce they are joining more than 100 independent auto repair shops across the United States to raise money to support the Cleveland Clinic Breast Cancer Vaccine Research Fund through the Brakes for Breasts initiative. For the entire month of October, Nerger's Auto Express will provide free brake pads to customers. Customers will only be responsible for the labor, and any other needed parts. Nerger's will then donate 10% of the brake service to the Cancer Vaccine Fund.
According to Brian Nerger, Manager and Owner of Nerger's Auto Express, the locally owned and operated auto repair shop is thrilled to be participating in the fundraising campaign. "It seems as if everyone has been somehow affected by breast cancer, and we are proud to be in the fight to eradicate this cruel disease," he said. "It is our complete honor to participate in such a worthwhile endeavor, that will one day hopefully protect all women from needless suffering."
Free brake pads with any brake service will be available to Nerger's Auto Express customers throughout October, which is Breast Cancer Awareness month. The Brakes for Breasts program donates 100% of all monies raised directly to the Cleveland Clinic for breast cancer vaccine research.
The Brakes for Breasts program began in 2011 with 5 automotive repair shops in the Cleveland, Ohio vicinity raising $10,000. The initiative has since then attracted more than 100 auto repair shops in the United States and Canada. To date, the annual fundraising campaign has raised nearly $1.2 Million, making Brakes for Breasts the largest third-party fundraising entity at the Cleveland Clinic. More recently, Brakes for Breasts has become an integral partner of the effort to develop the first vaccine designed to prevent triple-negative breast cancer, the most aggressive and lethal form of breast cancer.
The vaccine in development was invented by Cleveland Clinic immunologist Dr. Vincent Tuohy and his research team. In December 2020 the vaccine received FDA clearance for clinical trials to begin.
2021 marks the third year Nerger's Auto Express has participated in the Brakes for Breasts program, and Nerger says it's a campaign his entire team looks forward to each year. "It feels great to know that we're involved in such valuable research. This is a wonderful way to give back and join the fight against cancer. In the process, we also get to help protect our wonderful customers and neighbors by giving them new brakes which will help keep them safe on the road. It's a campaign that truly aligns with our values of service to others," he added.
Nerger's Auto Express includes ASE Certified auto mechanics as awarded by the National Institute for Automotive Service Excellence. The full-service auto repair shop is also an AAA Approved Auto Repair Shop, a designated NAPA AutoCare Center. Nerger's Auto Express has an A+ rating with the BBB.
Nerger's Auto Express has been providing complete auto repair services in Bound Brook, New Jersey since 1989. As a family owned and operated business for more than 30 years, Nerger's provides oil changes, transmission repairs, towing services, smog checks, tire and wheel service, fleet service, preventative maintenance, and tune-ups. Nerger's Auto Express is located at 101 W. Main Street in Bound Brook. Visit their website to schedule an appointment online, or call 732.507.9603
To learn more about Dr. Tuohy's breast cancer vaccine research at the Cleveland Clinic, and the Brakes for Breasts initiative, visit www.brakesforbreasts.com.
Release ID: 89046004