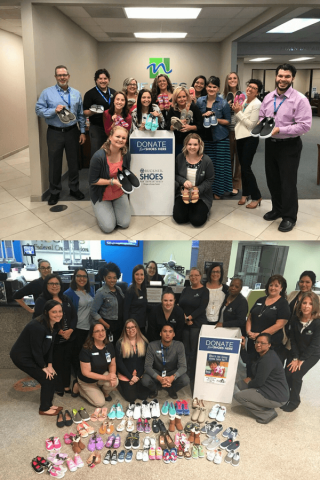 - May 18, 2018 /PressCable/ —
PORT NECHES – More than 400 orphans and vulnerable children will be able to step into the future wearing new shoes, thanks to an ambitious shoe drive by Neches Federal Credit Union employees.
Employees collected an astounding 424 pairs of new shoes during the April 9th – May 9th Buckner Shoes for Orphan Souls drive. The aim is to help at-risk children everywhere put their best foot forward, one pair of shoes at a time.
The footwear will be distributed through a partnership with Buckner Shoes for the Orphan Souls® to children in the United States and 82 countries.
Buckner Shoes for the Orphan Souls – the largest humanitarian aid project of Buckner International – provides new shoes and socks to orphans and vulnerable children throughout the world.
"Collecting shoes for Buckner is one of our most successful community outreach efforts that we participate in," said Jason Duplant, VP of Marketing and Business Development at Neches FCU. "This year was no exception as we raised over 420 pairs of shoes that will serve as an invaluable gift to children in the United States and many developing countries."
Since 1999, Buckner has distributed more than 3 million pairs of new shoes and socks to children in 82 countries. Buckner International transforms the lives of vulnerable children, enriches the lives of senior adults and builds strong families through Christ-centered values.
Neches regularly partners with Buckner because of the organization's quality work and extensive reach. Neches' recent shoe drive was its 6th for Buckner since the humanitarian project began in 1999.
According to Buckner, shoes protect against disease and infection and reduce the barriers to attending school. They are also an incredible gift for a child who has little and rarely receives anything new.
Neches FCU sponsors a variety of public outreach and charity events yearly and most recently sponsored a family fun day with the World Series Champion Houston Astros Shuttle Crew. More than 200 local residents attended.
Neches FCU has 10 branches serving customers in Jefferson, Hardin, Orange, Chambers, Jasper, Newton, Liberty and Tyler Counties in Southeast Texas.
Release ID: 346213