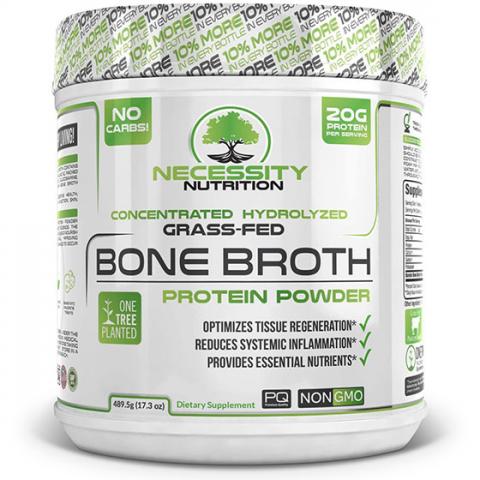 - September 15, 2020 /PressCable/ —
New York-based Necessity Nutrition recently announced the release of its latest addition to its product line, a Grass-Fed Bone Broth Protein Powder. Fueled by its passion for wellness, Necessity Nutrition has begun promoting bone broth not only for its delicious warming properties but for its numerous health benefits.
More information on the product can be found on Amazon
Necessity Nutrition's new Grass-Fed Bone Broth Protein Powder supports the top five health claims on Bone Broth – helps in muscle recovery, supports bone and joint health, improves immunity and gut health, supports weight loss, and promotes restful sleep.
For centuries, our ancestors around the world used bones out of necessity. Hunting an animal was so rare they used everything from the meat, hides, and bones. Once the pot was invented, people would prepare the bones to make a broth and add vegetables, tubers, and meat. Cultures around the world have been making bone broth for thousands of years. (evidence of soup existence goes back to 20,000 BC) and is still very much a part of traditional cuisines.
Bone Broth has been a part of every culture's culinary tradition for centuries because of its wide range of health-boosting benefits. The resurgence of this ancient healing food is a symbol of Necessity Nutrition's desire to return to a state of wholeness and balance.
"For anyone seeking health prosperity, we have come to offer the nutritional benefits of traditional bone broths in a unique formula that no ordinary broths can provide.", commented Robbie MacNeil, founder of Necessity Nutrition. "An excellent source of some of the most beneficial minerals of our body."
Many people don't get enough nutrients in their diet, so drinking bone broth is a good way to get more. Necessity Nutrition's Bone Broth Protein Powder is a rich source of amino acids like glycine, proline, and glutamine. It also has a high concentration of collagen content which plays an essential role in tissue development and regulation.
"I love the fact that this product is not just collagen powder but is also a bone broth PLUS it has the amino acids in it. My stomach was a wreck before I started drinking it. I feel great every day after I have it.", says a verified buyer, Kelly Massey, in a recent review.
Necessity Nutrition's Grass-Fed Bone Broth Protein Powder is non-GMO, Gluten-Free, Soy Free, Dairy Free, and Grass-Fed. This product is manufactured in the USA following GMP procedures. Each bottle contains a 22 Day Supply of 20 grams of protein per scoop for you to use daily with hot drinks, soups or dressings, blend into cold drinks, or even baked into your favorite treats.
Necessity Nutrition's Grass-Fed Bone Broth Protein Powder is available on Amazon.com
Release ID: 88976601