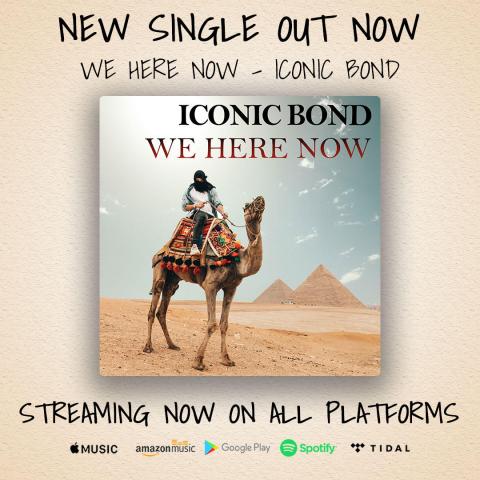 - June 26, 2020 /PressCable/ —
For Hip hop and Rap fans looking to get their hands on the latest Iconic Bond single, the wait is over. "We Here Now" will be available on June 26, 2020.
iTunes – http://itunes.apple.com/album/id1518378223?ls=1&app=itunes
Apple Music – http://itunes.apple.com/album/id/1518378223
You Tube Video – https://www.youtube.com/IconicBond
Instagram – https://www.instagram.com/iconicbond
Iconic Bond has high hopes for the success of this single and said, Being different can be a challenge, but staying different is even more so…I've been asked to stop rapping, Didn't Stop. I been asked to go back home, Still Here…Only option is continue forward!
Coming from an immigrant Egyptian family, Iconic Bond was not immediately introduced to Hip-Hop. Being in a private school until High School sheltered him from this culture, but the first Hip-Hop song he heard on the radio appealed to him: "Wanna be a Baller" by Lil' Troy.
From that point on, Iconic Bond listened to every hip-Hop song he could get his hands on. He found that Hip-Hop held a power that no other genre of music held: the power to truly inspire and change the heart. It was Hip-Hop that made him the person he is today.
Starting from high school, Iconic Bond began writing poems on a regular basis. He fell in love with the way rappers played with words and used metaphors and analogies to make a point. After years of writing, he finally decided to make some music when he saw that the current mainstream Hip-Hop had lost the true essence of what Hip-Hop used to be.
Iconic Bond began mentoring the youth from his time in college and continues to do so today. He was able to see the effect the new mainstream music had on these young minds. He also saw that they no longer seemed motivated or driven like the youth were when he was younger. This gave him another purpose to pursuing a rap career; a passion to balance out the new music with music that had a message, music that inspires the youth, and music that can be heard by anyone regardless of their background, race, ethnicity, or demographic.
Fans are encouraged to learn more and ask questions on the fan page https://www.facebook.com/IconicBond/. Businesses interested in partnership or media opportunities can learn more on the company website http://www.theiconicbond.com/.
Release ID: 88965808