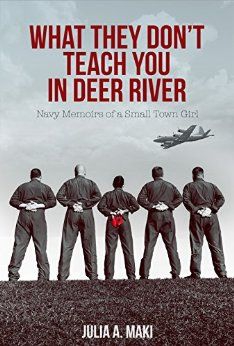 - November 1, 2016 /PressCable/ —
Moms & Guns Blog has released their new review of "What They Don't Teach In Deer River, Navy Memoirs of a Small Town Girl," by Author and Navy Veteran, Julia A. Maki. This review reveals how lifetime skills are developed to overcome hardships and life threatening situations, via the key factor being the Navy SERE Training program.
The review also shows how author Julia A. Maki discovered the ability to see God and the beauty in His creation in the midst of dangerous circumstances.
Moms & Guns BLog Owner/Founder, Rebecca Alderman states: "Developing the proper mindset creates the fortitude to withstand even the greatest of dangers in life and survive to tell about it. These are lessons to be learned through real life and/or simulated training. Either way, when the lesson is learned, the person's character and skill level is such that enables the individual to overcome."
"There are many people considering buying "What They Don't Teach In Deer River, Navy Memoirs of a Small Town Girl" and there's a lot of buzz around its potential benefits in the Self Defense arena. At Moms & Guns Blog, we aim to provide consumers and the website readers with the encouragement to overcome different challenges, so that women can obtain confidence in the own life journey filled with adverse situations, so that life becomes filled with hope and possibilities versus paralyzing fear."
This review gives an objective analysis of how well "What They Don't Teach You In Deer River, Navy Memoirs of a Small Town Girl" actually delivers, as well as providing some insights into whether it may be a good value purchase at the current price.
Moms & Guns Blog was created by Rebecca Alderman in 2012. Rebecca Alderman got the idea for the site when trying to find quality training tips for women and their children in the personal protection arena. These tips are presented in various ways and are easily digested and grasped in small snippets by the busy family and full work schedules.
Since it first went online in 2012, Moms & Guns Blog aims to help women become aware of the site's vast topics and training considerations so they can formulate their own skills development plan, especially with reviews.
The product review is available to view in full at http://momsandgunsblog.com/julia-maki-memoir plus a three part video interview.
Release ID: 140955