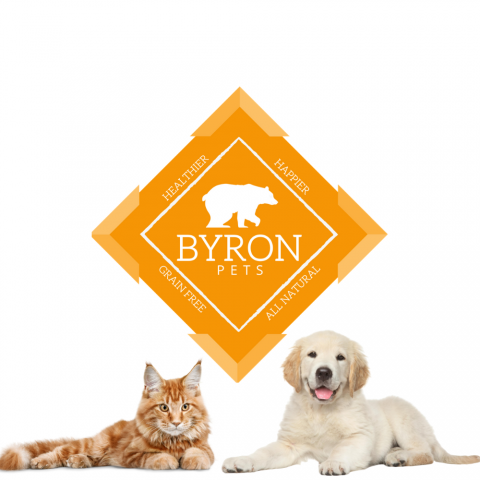 - September 15, 2020 /PressCable/ —
A new range of natural supplements for dogs has been launched to support joint health, alleviate the symptoms of arthritis and digestive issues. Byron Pets is a group formed by animal enthusiasts from California that are committed to giving their pets the best they can.
Find out more at https://byronpets.com
The newly launched range of natural supplements has been developed after working with top nutritionists and veterinarians. They are designed to bring health and happiness back into pet nutrition through the best ingredients and formulas that promote pet wellness.
As pets get older it is easy to assume that new habits are age-related. Long naps and not chasing animals or running around as much as they once did can be signs of arthritis, which can compromise joint and bone health.
One of the founders experienced this situation and was offered only pain medication from the vet. As a trained nutritionist, they felt there had to be other natural options. As it happens, there are many natural products that can restore joint health and naturally ease arthritic pain. This led to the development of the Byron Pets Multivitamin with Glucosamine.
Other products that have since been developed include Calming Bites, an Immune Booster, All Natural Wild Alaskan Salmon Oil Drops, and Cranberry Bladder Support. The latter is a natural UTI treatment specially formulated to not only cleanse toxins and infections but balance the pH level of the bladder and protect it from future problems.
For natural joint support, skin health, and inflammation issues the multivitamin with glucosamine is recommended. It offers a 6-in-1 formula that promotes immunity and digestive health. The glucosamine, chondroitin sulfate, and hemp powder support hips and joints naturally as they provide collagen and anti-inflammatory properties.
A company spokesperson said: "Our healthy ingredients are proven – we've worked with top nutritionists, veterinarians, and the best ingredient brands. We continue to find new ingredients and formulate new ways of bringing prolonged wellness to your pet."
To view the range in full, interested parties are invited to visit the link provided. Alternatively, click here https://byronpets.com/pages/the-byron-difference.
Release ID: 88976332