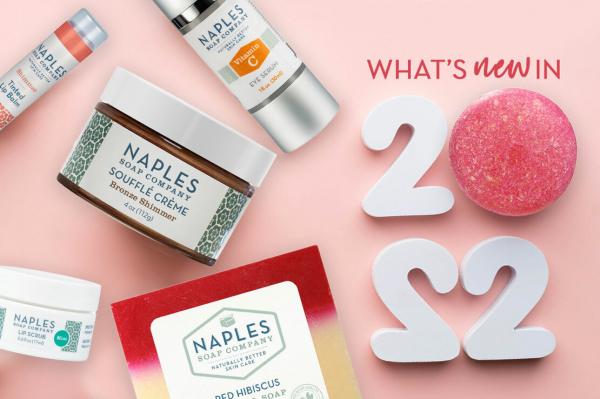 - March 1, 2022 /PressCable/ —
The new guide is written to provide a detailed overview of just-released and currently trending beauty and natural products as of the first quarter of this year. It acts as a comprehensive reference point for readers who want to stay in the know regarding the latest skin and body care items.
For more information, see
https://www.naplessoap.com/blog/whats-new-in-2022
Naples Soap Company releases the New Year-themed guide as an addition to its vast library of skincare resources. The organic skin and hair care product providers aim to showcase items that devoted beauty enthusiasts will want to keep track of as the year goes on.
The guide demonstrates how, as a sign of these modern times, the natural skincare industry continues to grow in popularity. Consumers are increasingly turning to products made from all-natural ingredients and away from those that contain harmful additives – or as Naples Soap Company calls them, "badditives."
One craze that has grown in prominence since the global health crisis began, as the guide explains, is quick beauty care applications. With an increased amount of time spent taking part in virtual meetings, employees are becoming more aware of how their face looks throughout the day. As such, they are continuously searching for products conducive to rapid skincare routines.
Naples Soap Company is equipped to provide customers with suitable products including natural skin bronzers, blushers, lip balms, and more. Its available range, further spanning vitamin-rich and plant-based extract skincare items, allows individuals to add color and vitality to their appearance in line with modern preferences.
Sustainability, too, remains a major focus for the skincare industry and customers – now more than ever. To meet rising demands for environmentally-friendly products in 2022, the guide points to Naples Soap Company's extensive array of low waste-packaging items. These have been provided since the company's formation in an ongoing bid to combat global waste.
As written in the guide: "From condensed shampoo bars to package-free products, Naples Soap has offered a variety of low-waste, plastic-free options since our inception. Simply switching from a shower gel to a bar soap can make a difference in the effort to reduce our plastic footprint."
Interested parties are invited to visit
https://www.naplessoap.com/blog/whats-new-in-2022
to learn more by reading the full guide at Naples Soap Company's official website.
Release ID: 89066109