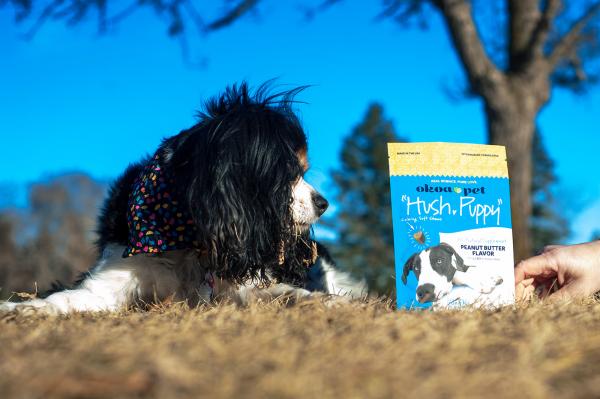 - June 21, 2021 /PressCable/ —
Okoa Pet, an online store based in Boulder, Colorado, has launched an expansion of products. Their new Hush Puppy CBD calming treats for dogs aim to naturally calm social anxiety and restlessness.
More information is available at https://okoapet.com/product/all-natural-cbd-infused-calming-dog-treats-okoa-pet
The product was launched to benefit dogs suffering from anxiety caused by a wide range of reasons.
Many types of situations such as fireworks, thunder, and separation can result in anxiety in dogs. Common indications of anxiety in canines include excessive barking, pacing, chewing, licking, panting, salivating, yawning, whimpering, trembling, circling, and dilated pupils.
Unfortunately, anxiety in dogs can sometimes include antisocial behaviors such as aggression, moving away from other dogs or people, hiding, reduced activity, urination or defecation when housebroken, actively trying to escape, and self harm.
Okoa Pet's Hush Puppy CBD calming treats can help to calm your pet's anxiety and reduce these and other stress-related behaviors. They have also been shown to be effective for pain, mobility, anxiety, and restlessness. They are non-toxic, non-intoxicating, and clinically proven to be safe for pet consumption.
The supplements include organic, broad-spectrum hemp and naturally occurring CBD. They are free of THC and contain 3 mg of CBD and 1 mg of minor cannabinoids (CBG, CBC, and CBN) per chew.
Okoa Pets utilize an independent ISO 17025 certified laboratory to ensure the purity of their supplements. In addition, they post all of their 3rd party lab test results in order for consumers to feel confident that heavy metals, microbials, mycotoxins, fungicides, and other potentially harmful items are excluded from the supplements.
A satisfied customer stated, "This product worked wonders. I have a two year old rescue who had just had an extremely adverse reaction to anxiety meds prescribed by the vet. Desperate to find something to help him, this product was truly a lifesaver. We gave him two chews and he was almost instantly relaxed for the rest of the evening. I am so grateful to have found a product that will make him feel calm on and safe while he continues to adjust to his new home."
Interested parties can find additional details at https://okoapet.com/product/all-natural-cbd-infused-calming-dog-treats-okoa-pet
Release ID: 89025049