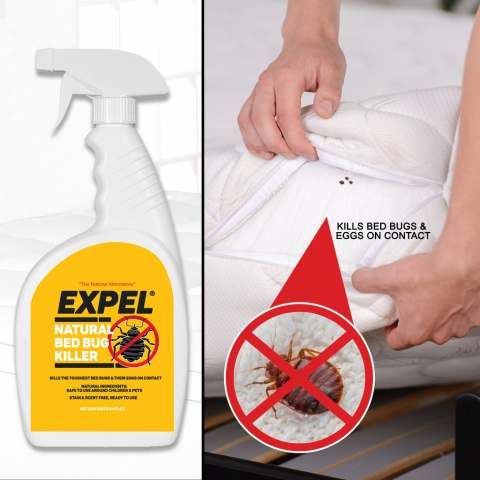 - March 16, 2017 /PressCable/ —
Bed bugs are a continually growing pest problem across the United States and consumers are seeking a product that is fast and effective at totally eradicating these problem pests. A growing awareness about the toxic effects of chemicals also has consumers demanding that any bed bug killer they use in the home around children and pets is made with natural ingredients.
Predator Guard, a USA based manufacturer of innovative pest control solutions, is thrilled to announce the launch of their completely natural and organic bed bug killer spray. Expel Natural Bed Bug Killer Spray has attained high ratings and popularity at Amazon.com. This environmentally friendly product kills bed bugs at all stages of their lifecycle, from eggs to larvae to growing bed bugs.
"Bed bugs are resilient. Their eggs and larvae are a major part of the problem in the spread of these tiny pests. Bed bug eggs are easily transported around on clothing, which results in bed bugs traveling easily from host to host," said Drew Waters, CEO and founder of Predator Guard. "Until now there has never been a completely natural product available that will kill bed bugs and eggs at all stages of life. That is why Expel Bed Bug Killer Spray is such an impressive product, as well as killing bed bugs and eggs, it keeps working after use to stop eggs from hatching on treated areas."
Expel's unique blend of natural ingredients is proven to work against even the toughest of bed bugs at all stages of their life cycle. Expel bed bug extermination spray eradicates bed bugs on contact, is 100% effective, scent-free, and stain-free. Its non-toxic formula is safe for kids & pets, and won't irritate people with respiratory conditions.
Expel Bed Bug Killer was developed and tested by research entomologists in New York City (with one of the largest bed bug populations in the nation) and is used daily by professional exterminators to eradicate bed bug infestations. Hotels and hospitals use Expel Bed Bug Killer Spray as a daily routine to prevent bed bug infestations and the product is now available to everyone.
About Predator Guard Predator Guard is a customer-focused company founded in 2012. The company's innovative products are designed to assist homesteaders, ranchers, farmers and gardeners protect their valuable assets from wild animal and pest predation. Bed bug extermination products include Expel, a non-toxic bed bug killer spray and bed bug glue traps.
Release ID: 178277