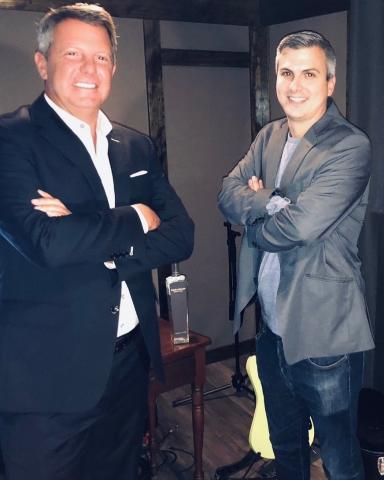 - January 13, 2021 /PressCable/ —
A Nashville, TN-based rapper called Young Grey may very well have made the motivational song of the decade soon-to-be-released on Grey Lyfe Records.
Find out more at https://greylyfe.com
The song "I Got This" is scheduled to drop on January 22nd and has already garnered buzz as potentially being the motivational sports anthem that will be heard across all major sports leagues from the NBA to the NFL. More details can be viewed at https://open.spotify.com/artist/3my0YLQYPM1ejbd1UXGVcp
Recording artist, Young Grey, and Grey Lyfe Records CEO, Sean Dickerson, hopes to change the stereotypes associated with being a hip hop artist by breaking down the walls of division based on ethnicity, gender, race, and even geography, as they are headquartered in Nashville, TN and state on their website to be the "first true Nashville based hip hop label."
This partnership between businessman and entrepreneur Sean Dickerson and Young Grey also known as David Marone aims to offer unity to all through fun and energetic music. It's clear that they want the music to do all the talking and the motivational song, "I Got This" is just the track to prove it.
As well as being a record label, Grey Lyfe Entertainment is a lifestyle brand and publishing and management company. The label has completed a distribution deal with Orchard/Sony with the help of well-known entertainment lawyer David A. Small.
Grey Lyfe Entertainment aims to offer a platform to launch the newest talent while also providing a one-stop-shop to help aspiring artists advance their careers. Young Grey experienced success after the release of his collaborative single 'Celebrate' with Snoop Dogg, which was produced by Mista Choc.
While many in the rap, hip hop, and music industry, in general, are forced to focus on looks and influencer status, Grey Lyfe takes an approach that puts the artists' talent and abilities in the spotlight. The company also utilizes giveaways and opportunities to help new and emerging artists gain brand exposure.
CEO, Sean Dickerson stated when asked about the record label: "Family is not always defined by blood – it is defined by commitment and love. Grey Lyfe has nothing but love to give. Grey Lyfe is a movement that promotes diversity and encourages people to shed limiting beliefs and stereotypes."
To find out more about Young Grey, and be the first to hear his upcoming track "I Got This" visit his Spotify page from the link provided above. Alternatively, the official Young Grey Instagram account can be followed by visiting https://www.instagram.com/younggrey/?hl=en
Release ID: 88993393