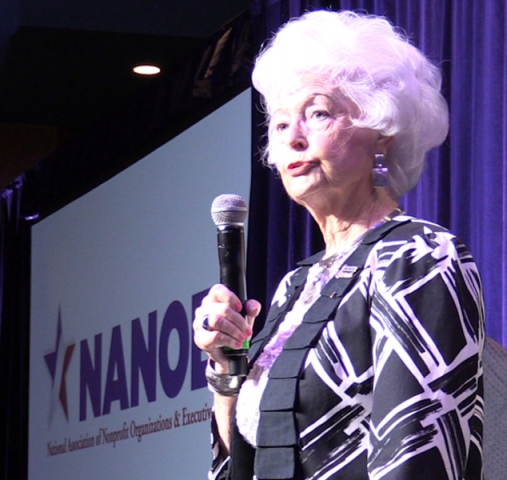 - June 21, 2017 /PressCable/ —
Charlotte Berry, the Nominations Co-Chair of the National Association of Nonprofit Organizations & Executives (NANOE), announced that the nominations to seat NANOE's Board of Governors for next year will open on Monday, July 10.
More information on NANOE nominations can be found at https://NANOEgovernors.org.
NANOE is the only nationwide membership organization in the U.S. for executives seeking credentials in the nonprofit capacity-building. NANOE's three capacity-building training certifications are based on industry insider knowledge, university research, and a drive to serve humanity. Each credential ensures that the CEOs, CFOs, COOs, and CDOs organization-wide are equipped with practices that drive new growth.
Members maintain their CNE, CDE, or CNC credential with no expensive recertification processes. These individuals are recognized by employers in the nonprofit sector as having met a series of standards set by NANOE and receive an official Credentialing Certificate, which may be used in their public title, business cards, letterhead, websites, etc.
Through Berry's years dedicated to work in the community, she has seen the wide range of philanthropic needs and opportunities.She has spent a lifetime championing the displaced, disenfranchised, and disaffected, and travelled worldwide as the National Chairwoman of Volunteers of the American Red Cross, supervising and planning activities for 1.8 million volunteers.
To find out more about Berry and her years of devotion to volunteer work, visit https://CharlotteBerry.org.
The well-qualified group of governors made up of philanthropists, volunteers, and nonprofit practitioners will oversee the codification of the new rules and regulations that will model the non-profit capacity building. In addition to Berry, the NANOE Board of Governors Nominations Committee is made up of Board Chairman Bishop Redfern II, CNC, CDE, CNE; Nominations Co-Chair Kathleen Robinson PhD, CNE; and National Director Tracey Ebarb, CFRE, CNE, CDE, CNC.
Nominees have been suggested to NANOE's nominations committee from members of Association of Fundraising Professionals (AFP), Certified Fundraising Executive (CFRE), Association for Healthcare Philanhtropy (AHP), American Society of Association Executives (ASAE), CASE, United Way, National Development Institute, Nonprofit Associations, Industry Associations, and other community leaders. The final list of nominees was completed in May and the list was submitted to the Nominations Committee in June. Nominees will be notified via email on July 10.
For more information on NANOE's nomination period for the Board of Governors visit https://NANOEgovernors.org.
Release ID: 209865