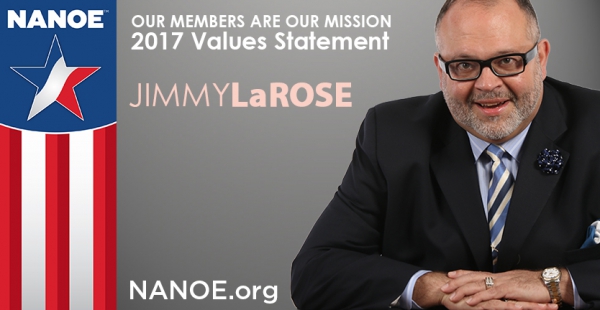 - October 31, 2017 /PressCable/ —
The National Association of Nonprofit Organizations & Executives (NANOE) is fast becoming the largest network of charitable organizations in the U.S. having grown to a membership of 873 organizations in only eighteen months. NANOE is already twenty-times larger than the National Council of Nonprofits (NCP) whose 41 members are ironically State Nonprofit Associations most of whom NANOE has surpassed in size as well. (It should be noted that National Council of Nonprofits repeatedly violates their own ethical codes by inflating their membership count to include the nonprofits associated with their 41 paid organizations as NCP members also.)
When asked how NANOE is outpacing their competition co-founder Jimmy LaRose responds, "It's a simple contrast in values. We're about growth. They're about rules. We're about scale. They're about regulations. If you're stealing from your donors get your CFRE (Certified Fund Raising Executive) they'll teach you how to stop embezzling. If you're unkind to others and don't respect your fellow man join Association of Fundraising Professionals (AFP) they'll train you to be diverse. If you've bought into the hoax that you need better board members join your State Association they've got a webinar for you that hasn't worked in decades. But if you need money…if you really need to increase your financial capacity…join NANOE. The funding our members receive will take your breath away."
When asked about NANOE's newly released Values Statement, LaRose's demeanor softens, "It's what nonprofit's need most. The modern CEO has rejected the tired, outdated "ethical codes" of old. NANOE's Values Statement transcends the status quo. The words 'GRACE, BEAUTY and INSPIRATION" describe the import of each idea expressed. They're based on empirical research. They're what I believe. They're what our members crave most."
NANOE's Values Statement adopted October 2017 has been included below:
OUR MEMBERS ARE OUR MISSION
National Association of Nonprofit Organizations & Executives (NANOE) is a nationwide network of donors, volunteers and charitable leaders whose relentless commitment to significant and sustainable impact transforms the communities we serve. NANOE members are innovators who solve problems (not just service them) by deploying heroic missions of scale that confront social and environmental dilemmas so completely that money chases after their every need.
Here's how NANOE works:
1. We connect philanthropists, funders and academics to people that transform the world;
2. We create platforms, programs and tools that supercharge financial capacity building;
3. We form economic impact engines infusing capital into charities to guarantee mission success;
4. We confront intellectual dishonesty using mass communications to dispel myths and disseminate truth;
5. We disrupt industry associations, organizations and media outlets whose activities injure nonprofits;
6. We build personal relationships with leaders that strengthen them and meet their needs;
7. We establish compensation standards that safeguard the financial success of those employed in our sector;
8. We credential executives in advanced management models, capacity-building and consulting;
9. We research and report on scale, sustainability and significant impact;
10. We host forums, conferences and events on scale, sustainability and significant impact;
Our values are OUR MINDSET:
We regard all people and the environment as created and loved by God. Equality is guaranteed by the Creator. We act in ways that respect the dignity, uniqueness, and intrinsic worth of every person – our consumers, donors, investors, boards, governors, volunteers, staff and their families. We celebrate the richness of diversity in human personality, values, contributions, and cultures and require that our members do the same.
Our values are OUR METHOD:
We speak and act honestly. We are open and factual in our dealings with investors, donors, project partners, governments, sector leaders, interested publics, those with whom we consult, and each other. We endeavor to convey a public image that conforms to reality. We strive for consistency between what we say and what we do. We practice a participative and open relationship style. We ensure our members, governors, staff, volunteers and board pursue a life of personal, spiritual and vocational development. We adhere to rigorous operational standards and are authentic when reporting. Our finances and programs are audited using external third-party review. We use organizational structures and processes to achieve these standards. We share these models, experiences and knowledge with others for their benefit.
Our values are OUR MANNER:
We provide information and assessments, so leaders can make effective decisions. We reveal what's working and what's not working, even if it's a prized sector practice. We do so openly, honestly, and sincerely, but also frankly. We are straightforward in highlighting associations, networks, media outlets and intermediary organizations that need to change the way they pursue mission, impact and sustainability. We refrain from and discourage disparaging talk about other organizations or individuals but are not passive if defamed, slandered, and/or libeled.
Our values are OUR MEMBERS:
We are members of a network that transcends legal, structural, and cultural boundaries. We joyfully accept the obligations of joint participation, shared goals, and mutual accountability that networked organizations require. We affirm our interdependence. We are willing to yield autonomy as necessary for the common good. We commit ourselves to know, understand, and respect each other. We are partners with nonprofits of all sizes but particularly with those that are at scale or intend to go to scale. We are partners with philanthropists and investors who share our passions and vision to improve the charitable sector's value in America and the world. We pursue relationships with all nonprofits and mutually participate in building each other's organizations and services. We maintain a cooperative stance and a spirit of openness towards other organizations in all business sectors. We welcome honest feedback when based on facts. We are stewards of our member's financial resources who expect us to use their monies to improve sector effectiveness, thereby increasing the value of charity to the public.
Summary:
NANOE is a fellowship of individuals who believe that "innovation never fears a challenge" and that the greatest contribution donors, volunteers and practitioners can make to charity is to become the creative, thinking enterprise-leaders our sector so desperately needs.
Release ID: 257754