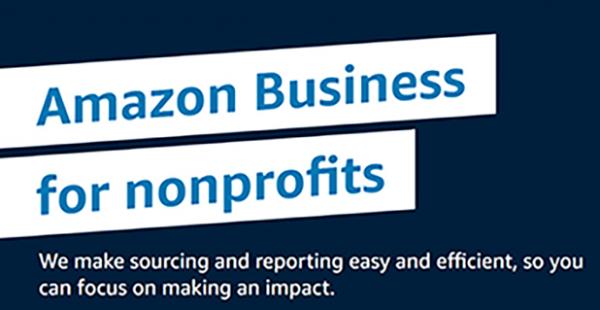 - December 13, 2020 /PressCable/ —
Washington D.C. – December 15, 2020 – National Association of Nonprofit Organizations & Executives (NANOE) has welcomed AMAZON BUSINSS FOR NONPROFITS as their newest Enterprise Member in service to the charitable sector. Both NANOE and AMAZON believe in the importance of impact organizations who serve locally, nationally and even worldwide. That's why Amazon Business for Nonprofits has been designed especially to assist 501c3 enterprises. Amazon knows charities need agility and flexibility to respond to changing community needs. Every dollar spent at a nonprofit represents a choice between funding staff, operations, or programs. Amazon helps charities get the job done more efficiently and at lower costs. Here's just a few of the features made available to nonprofits through Amazon Business:
Amazon Business for Nonprofits Supports Charities By Providing:
-Multi-user, TAX-EXEMPT Amazon account for your organization
-Product selection and pricing advantages
-Nonprofit discounted Business Prime Tiers
-Dedicated Amazon Nonprofit Customer Advisor to maximize your experience
-Bookkeeping reports that track your expenses
-Orders can be automatically emailed for approval
-Access for all employees to Amazon's COVID-19 Supplies
-Increase donations with charity-specific AmazonSmile landing pages
How is the charitable sector responding to Amazon Business for Nonprofits?
-75,000 nonprofit business customers (and growing)
-30 of the United States' largest charities
-28,000 faith-based organizations
Amazon Tax Exemption Program (ATEP):
If you're eligible for tax-exempt purchasing, you may be able to participate in the Amazon Tax Exemption Program. The program allows you to make tax-exempt purchases and manage tax exemption across your organization.
Nonprofit Organization Pricing:
Amazon already makes it easy to compare prices and find the best deals. Now we've made it easy for suppliers to provide discounts reserved for charities. Registered nonprofits will see exclusive prices on a growing selection of items.
Discounted BUSINESS PRIME Subscription:
Depending on the size of your organization your Business Prime Subscription can be as low as $69.00 per year.
Amazon Nonprofit Customer Advisor to maximize your experience:
Amazon will assign your organization a designated Nonprofit Advisor who will work with you to ensure you navigate all the advantages this program offers. They're just a phone call away.
Reports that track your expenses:
Save time compiling recurring reports by using out-of-the-box reports and dashboards. Track your progress toward spending goals and discover new ways to reduce costs.
Purchase orders can be automatically emailed for approval:
Amazon connects all your teams to one account providing purchase order requests for approval.
Access for all employees to Amazon's COVID-19 Supplies:
Explore a brand new central location on Amazon, exclusively for tax-exempt organizations to access inventory of critical supplies as they become available.
Access to AmazonSmile Charity Lists:
Thousands of charities create AmazonSmile Charity Lists of items they need right now. Donors can browse, order, and enjoy giving. Amazon also donates 0.5% of eligible purchases to your charitable organization—no fees, no extra cost.
Here's a word from Meredith Berger, Amazon's Government & Nonprofit Customer Advisor, "We are here to ensure you get the supplies you need to serve men, women, children and families in need. From nationwide nonprofits to community organizations, we're a fit. Every dollar spent at a nonprofit represents a choice between funding staff, operations, or programs. We're here to help you get the job done more efficiently."
Release ID: 88989564