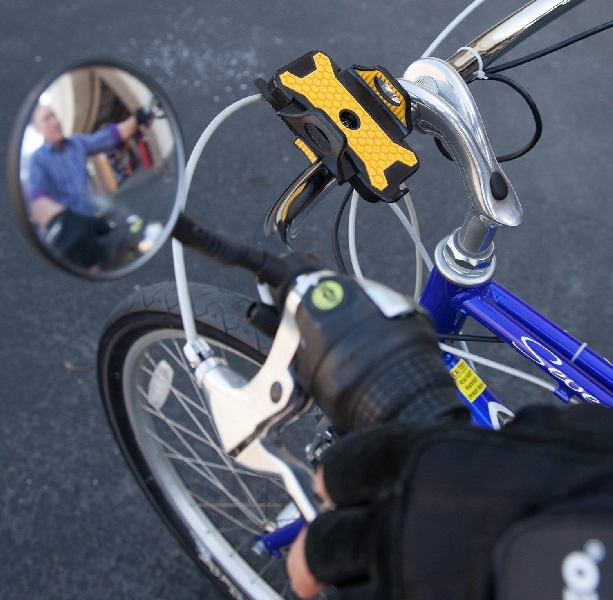 - March 5, 2015 /PressCable/ —
The makers of the My Ride Gripper™, a unique cell phone bike mount designed especially for bicycles, recently released new and updated facts about the bike courier segment. The industry segment, once thought to be on the decline and destined for obsolescence, has been rejuvenated, thanks to the embrace of new cell phone and mobile technology. Since 2010, new bike messenger companies have started in major cities from coast to coast and in some European countries, and established companies are hiring new couriers in high numbers.
The company undertook the research as part of their efforts to more effectively serve the market for their product, a universal mobile phone mount that is guaranteed to fit any brand or model of bicycle, and fits a wide variety of smart phones and cell phones. Intrigued by a recent news story about the rise of bike messengers in Milwaukee, they delved deeper into the subject and found similar stories in major newspapers in San Francisco, Boston, Chicago, New York and, most surprisingly, Paris, France. In addition, they found a number of new company start-up announcements for bike messenger services, and a recent announcement that Uber, the company that pioneered a new model for ride-sharing using a mobile phone app, is developing a similar model for independent bike messengers using a mobile phone app to schedule and dispatch messages and packages.
An article posted at SFGate.com, a website maintained by the San Francisco Chronicle, notes that Smart phone technology is not the only way the courier industry has changed. In the late 1980s and early 1990s, more than 200 messenger services covered the San Francisco area, most focusing on business to business deliveries of time-sensitive documents, such as real estate titles and legal filings. When technology provided an easier way to transmit documents via email, many of those businesses closed down. But beginning in the mid-2000s, new bike courier companies began to spring up, focusing instead on business to consumer B2C deliveries, including food, flowers and merchandise. These companies specialize in so-called "last mile" deliveries, delivering products directly to consumers' homes and offices.
These start-ups rely on the flexibility of crowd-sourcing delivery jobs, which is a much nimbler way of assigning and scheduling jobs than a central dispatcher. Similar businesses have sprung up across the country, and their success has prompted long-time companies in the industry sector to shift their own scheduling methods and customer profiles. Today's bike courier is likely to be an independent contractor who takes on delivery jobs as they come up, using a Smart phone app to scan jobs, claim them and input the delivery status throughout their day. That requires them to keep their mobile devices accessible, not just for scheduling and confirming jobs, but for getting directions, checking traffic conditions and tracking mileage.
There is no doubt that mobile phone apps and technology have been central to the comeback of the bike courier as a viable method of package and message delivery, the company said in a recent statement. "Our My Ride Gripper™ is an ideal accessory for bike messengers on the go, because it allows bike riders to use their smart phones and iPhones in hands-free mode while riding. By safely mounting the mobile device on the handlebars, couriers can keep their map and directions apps in plain view, and allow them to access schedules, addresses and track their statistics without stopping or endangering themselves and pedestrians."
About My Ride Gripper™: MyRideGripper.com is a unique universal cell phone holder created specifically to mount on bicycle handlebars. The makers of My Ride Gripper™ guarantee that the mount will fit almost any bicycle made. The convenient bike mounted cell phone dashboard has proven to conveniently and securely hold most Smart phones, including iPhones, Galaxies and Droids. The MyRideGripper™ is available on Amazon Prime
Release ID: 76257