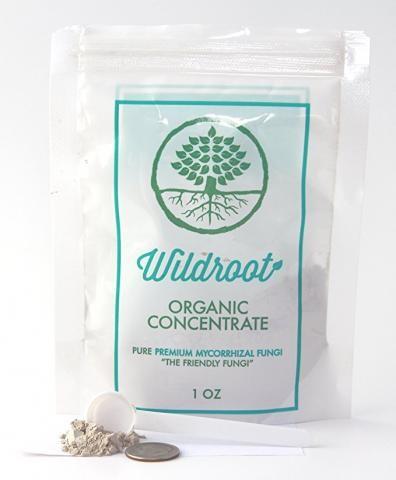 - June 17, 2019 /PressCable/ —
Blog Headline: Get The Boosted Formula Of The Best Organic Concentrate For Massive Plant Root Growth
Wildroot Organic updated its popular Organic Concentrate Mycorrhizal Fungi, a superior all natural solution for promoting healthy massive plant root growth, stabilizing the soil and increasing resistance to disease.
Wildroot Organic, a company specializing in organic agricultural solutions, launched an updated boosted formula version of its highly successful Mycorrhizal Fungi Concentrate. The pure extract of 16 species of mycorrhizae (9 Endo & 7 Ecto species) promotes massive plant root growth, improves drought tolerance, stabilizes soil and imparts resistance to disease, making it an ideal solution for organic cultivation of trees, lawns, home gardens, orchards and vineyards.
The new higher potency concentrate formula increased 102% for Endo Propagules and 15% for Ecto Propagules from the original formula. It counteracts soil deficiencies and transforms poor soils to release essential nutrients to grow vibrant healthy self-sufficient plants and crops. Plants can thrive in soil damaged by road salts and sea water.
Mycorrhizal fungi are grown from microscopic spores which attach to the roots of a host plant and help it extract nutrients and water from the soil, thus creating a beneficial symbiotic association. Naturally occurring in all healthy ecosystems, mycorrhizae are often disturbed by factors such as land clearing, development, overgrazing, tilling and compacting.
Wildroot Organic has carefully selected a blend of mycorrhizae that provides a powerful variety of beneficial fungi to 95% of plants worldwide making it suitable for healthy plant growth globally. The pure concentrate comes in the form of a high-efficiency powder which can be applied as such or diluted in water. A single ounce is sufficient to make 50 gallons of mycorrhizal solution and will cover 5000 square feet of lawn. It comes in 1, 5 ounce resealable package with enclosed scoop (about 1/4 tsp) which will make 1-2 gallons per scoop. It also comes in 1, 5, 25 pound buckets with enclosed scoop (about 1.35 tbs) which will make 5 -10 gallons per scoop.
The organic concentrate has been praised by farmers, gardeners. It is completely safe around children and pets. It is Non-GMO and 100% Made in the USA.
More information can be found at http://www.wildrootorganic.com
A satisfied customer said: "…verified by a professional that nine of the trees had developed Oak Wilt. I followed your instructions and noticed green sprouts on the trunks of my trees. I will be treating the trees again. I am beyond happy! You should see them, it's a beautiful sight! Its truly an amazing product and I highly recommend your product along with your instructions to anyone".. Jerry W.
Release ID: 524276