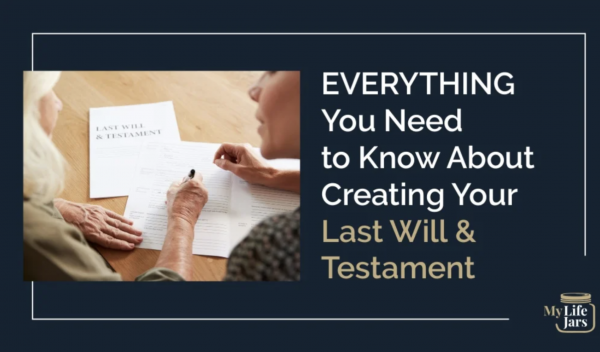 - February 22, 2022 /PressCable/ —
My LifeJars has released the 2022 edition of the FREE resource dedicated to helping Generation X-ers and Baby Boomers learn EVERYTHING they need to know when it comes to creating a Last Will and Testament.
If you're like most people, thinking about any instance where you'll need a Last Will and Testament is not on the top of your mind. My LifeJars totally understands! But… it's better to be prepared than to leave your loved ones guessing what you wanted to have happen after your death.
This 2022 walk-through guide & checklist from My LifeJars contains precise and detailed steps and instructions, designed to be used by people who want to help their loved ones avoid family conflict and wasting lots of time and money trying to sort everything out. Interested parties can access the full resource here: https://mylifejars.com/last-will-and-testament/
EVERYTHING You Need to Know About Creating Your Last Will & Testament, as quickly, easily, and stress free as possible.
My LifeJars states that this accessible, easy-to-follow guide provides all of the information necessary to fully understand the topic and to create your last will and testament.
This In-Depth How-To Guide Covers:
Who needs a Last Will and Testament? Answer a few simple questions to determine if you need to draft a Last Will and Testament.
What should and should NOT be included in a Last Will and Testament? This FREE resource is INCREDIBLE! There is so much valuable information. You can watch the videos, read the guide, or simply use the checklist to learn what you should or shouldn't include in your last will and testament.
What are the legal requirements for a valid Last Will and Testament? My LifeJars also lists legal requirements in both the United States and Australia.
Where should you keep your Last Will and Testament and who should have access? Of course, you would want to keep all your important documents safe & secure in the My LifeJars App, but where else and who else should have access?
When asked the reasons behind creating a guide on How to Prepare Your Last Will & Testament and what they hope to accomplish with it, Suke Ridler, Founder of My LifeJars, said: "It's so important to start preparing now for the what-ifs of tomorrow… because life can change in a heartbeat!"
It's never too early to get started on your Last Will and Testament. Download the checklist to make sure you have everything that needs to be included in your will. https://mylifejars.com/last-will-and-testament/
What is My LifeJars?
My LifeJars makes storing and granting access to your important information including documents, passwords, and access details quick and easy for your executors.
There is a lot to do and it can feel overwhelming, but we are here to help guide your every step of the way.
The My LifeJars app offers the following benefits:
– Encrypted data: very advanced and multi-layered cryptographic protection.
– Safety and security: access and review your information anywhere in the world with secure authentication.
– No advertising: you will not be shown any ads from third-party platforms while using the app.
– Supports giving: My LifeJars donates 10% of annual subscriptions to our Partners, which you select to support.
– Forever-Free account: A basic account that doesn't expire if you add a My LifeJars guardian.
For more information about My LifeJars and to create your Forever-Free Account go to: https://mylifejars.com/
Release ID: 89065280