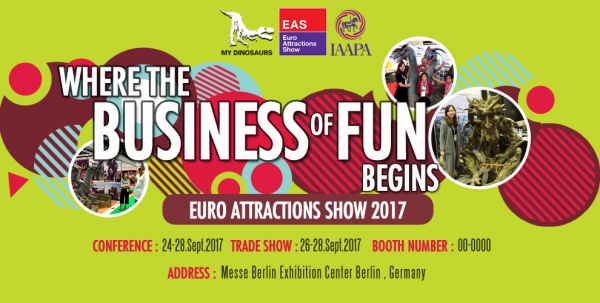 - September 21, 2017 /PressCable/ —
On August 19, the Zigong My Dinosaurs Culture And Arts Co., Limited, which has a high quality of experience in manufacturing the simulated models of dinosaurs overseas, has announced to participate the Euro Attraction Show at Berlin, Germany conducted by IAAPA (International Association of Amusement Parks and Attractions).
As a leading international trade association, the IAAPA was founded in the year 1918 and holds the title of best expo organizer across the globe. The organization distributes 5300 facilities for the union members.
The Euro Attraction Show is an exposure platform for the entertainment concept owners across the world with about 99 countries participating in. The concept of this exposure is to showcase the entertainment centers around the globe.
The exposure includes the amusement parks, attractions, theme parks, family entertainment centers, science centers, and museum, water parks, resorts, aquariums, and zoos. It helps the show holders to hike marketing strategy. The show holds for six days, which is from September 24 to September 28, including a conference (from 24 to 26) and the trade show (from 26 to 28).
My Dinosaurs Co., limited has attended the EAS for the past three years. This company manufactures the simulated and animated live model dinosaurs, such as Animatronic Dinosaurs, Dinosaur Costumes for the amusement parks, entertainment centers, malls, zoos, water parks, resorts, and theme restaurants for nearly twenty years.
The Euro Attraction Show platform can improve the market value and sales opportunity of My Dinosaurs Co., Limited because millions of people will gather at the expo along with the entrepreneurs. "We believe that when people gather things happen." One of the members in IAAPA association said. The opportunities are huge just like the show with three-day exhibition of the leading entertainment industries with very attracting entertainment booths. As one of the leading entertainment industries, there is no doubt that My Dinosaurs Co., Limited will bring out the best dinosaur exhibit, which can suit the taste of every single dinosaur lover.
My Dinosaurs Co., Limited holds the booth number of 23-1404 for the Euro Attraction Show. With over five hundred companies participating in the EAS, My Dinosaurs Co., Limited expects more contracts in the expo overseas since it is a platform of tremendous networking opportunities.
About The Company
The Zigong My Dinosaurs Culture and Arts Co., Limited is a company located in China that deals with the simulated models of the dinosaurs, dinosaurs skeleton and other custom products. The company has an experience of twenty years with a high-end quality and a reasonable price. The company's products include Static Dinosaurs, Animatronics, the animal skeleton as well as fossils. Along with these products, the company adds the miniature park sculpture, animal scooter, and animal rides, and other park related customized products.
The company gives a warrant for about two years for each product to ten years (depends on the product). The company also holds an ISO certification.
Release ID: 241708