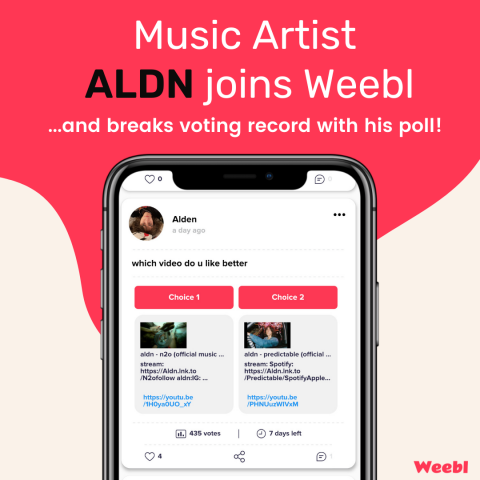 - November 4, 2021 /PressCable/ —
With the intertwining of social media, e-commerce, & branding, it's increasingly essential to establish intimate connections with your followers by taking their opinions into consideration – making them a part of your creative journey – and creating an experience where they feel their feedback may have a modicum of influence in your decision-making.
That's exactly what fast-rising music artist ALDN did when he joined the Weebl fam last week and created his very first Weebl!
Much like everything ALDN does, his Weebl drew quite the crowd! In fact, he broke the Weebl votes record as he accumulated hundreds of responses in less than 30 minutes. ALDN, who is most notably recognized for his distinct style and sound in the hyper pop and electronic music genre, is certainly making waves throughout the interwebs. He's recently been featured in popular music publications like The Fader and RIFF Magazine. However, regardless of artist popularity, they're usually searching for new breakthrough methods to augment their reach and connect with their audience. By harmonizing (see what we did there) their talents with a new app, or platform, they can expand their brand through new forms of expression that create meaningful and authentic connections with their audience
Weebl helps artists, or anyone with followers, to accomplish just that. The app is designed to help bring your questions to life and captivate your social media followers, across all your social channels. By creating immersive polls with audio (your unique voice), video, photos, and links, then sharing the poll across all social media accounts, users are able to engage their audiences on all platforms and bridge their various communities through a single poll question. Weebl gives you the creative flexibility to generate questions with either curated content or topics and ideas that come to mind throughout the day. It can range from important fashion-related questions, such as "Which outfit should I wear for my next show" or as trivial as "which show should I binge watch next?". Whatever it may be, We(ebl) has your back.
Are you an artist, influencer, or friendfluencer? Try Weebl today and send your first poll! https://apps.apple.com/us/app/weebl-social-media-polling/id1531006444
ALDN, whose latest album Greenhouse, featuring 22 equally impressive tracks, has been on the fast track to success in the music industry (just google him) with a rapidly growing fanbase.
You can follow ALDN's journey on @hereisaldn or if you'd like to listen to ALDN's latest album, check him out on the following streaming platforms:
Spotify (https://open.spotify.com/artist/2GUw9Wzha61PkZoRVv1PDD?autoplay=true)
Apple Music (https://music.apple.com/us/artist/aldn/1524910972)
Soundcloud (https://soundcloud.com/HEREISALDEN).
Check out his music videos and insane aesthetics on his Youtube channel (https://www.youtube.com/channel/UCQDoD5h0rK–GwdEmTRgerA)
Release ID: 89051642