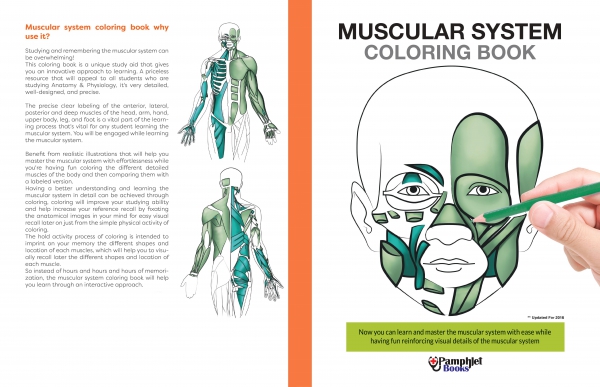 - March 7, 2017 /PressCable/ —
The Muscular System Coloring Book, a comprehensive, detail-oriented adult coloring book designed to provide both medical students and professionals, as well as fitness gurus with an effective way to learn the ins and outs of the human body anatomy, this week officially released a YouTube video in conjunction with its availability on Amazon.com.
Designed to make memorizing the locations, names, and shapes of the human muscles as easy, convenient, and joyful as possible, the Muscular System Coloring Book does so by taking a tedious and laborious task, and making it light-hearted and plain fun with illustrations that can be colored.
"When people think of coloring, they assume it's a mindless activity meant for children," said humanbodycoloringbook.com, Founder and Developer of the Muscular System Coloring Book. "This simply isn't the case. Coloring as an adult has been proven to be not only therapeutic, but also effective for engraining information visually into the brain."
The process of coloring is intended to imprint images and their corresponding information in each user's brain for easier recall later when asked. By coloring the hundreds of muscles in various regions of the body, users have a shape and color associated with each and every muscle. It makes the whole process more comprehensible than reading a textbook ten times over.
Though the coloring book presents immeasurable benefits for medical students, fitness practitioners and passionate athletes that desire to target muscle development more sustainably in their bodies are also harnessing its benefits.
"Everyone could stand to learn more about the human body anatomy in the muscular system," said humanbodycoloringbook.com. "That begins by sitting down with some colored pencils, and enjoying the interactive activity of coloring in the different muscle illustrations."
Head on over to Youtube for a video preview of the muscular system coloring book and see all the realistic illustrations inside: https://www.youtube.com/watch?v=5Wr32A1oJB0
Release ID: 173194