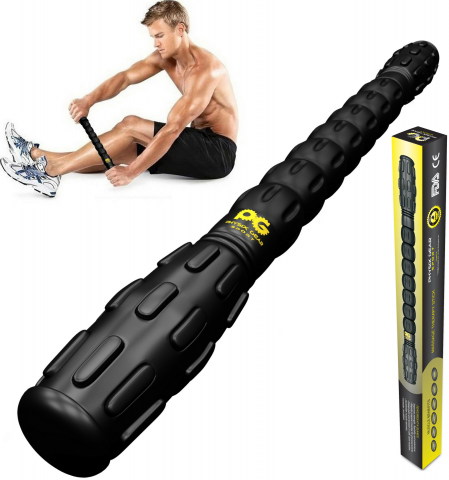 - April 15, 2020 /PressCable/ —
A performance and recovery sports gear specialist, Physix Gear Sport, based in Miami Florida, has launched a new muscle roller stick as part of its physical therapy equipment range.
Visit: https://www.physixgear.com to find out more about the product.
Physix Gear Sport specializes in sportswear and training equipment to aid performance and recovery. The company prides itself on offering a range of support products to assist individuals who want to work out but may be recovering from an injury or surgery.
Developed with active, busy people in mind, the muscle roller stick is designed to be portable and can easily be packed in a gym bag or suitcase, which is great for individuals who are always on the move.
The muscle roller stick essentially provides a much-needed, cost-effective, sports massage on the go, which makes it ideal for a broad range of individuals. This includes professional athletes, those who travel to take part in sporting events, gym users and people who prefer to workout at home.
The quality product comprises a stainless-steel core, with a molded handle for grip and individually spinning thermoplastic rollers. The pressure from each individually rolling spindle works to hug and relax each muscle, which enables the product to instantly remove compressed nerves, knots, achy joints and stiff muscles.
Using the muscle roller stick immediately after physical activity boosts muscle recovery as it decreases lactic acid build up. Aside from preventing cramps and muscle soreness, it also increases blood circulation within the muscle tissue.
It is ergonomically designed for easy use and allows all muscles to be reached. Within minutes of using the massage roller stick, muscles begin to feel rejuvenated. In addition to aiding the recovery process, it can also help to users to have a more restful sleep.
In addition to gym users, the muscle roller stick can be used by sufferers of myofascial pain syndrome. The painful condition, which can be caused by repetitive motions, can cause pain, muscle soreness or aching and can affect sleep. Releasing myofascial pain can be achieved by using muscle roller sticks and other deep tissue massage tools.
There are many advantages of incorporating self-massage post-workout. Aside from aiding recovery, preventing muscle soreness and increasingly blood flow, it can also improve strength and flexibility. This is important for individuals who have mobility issues or want to increase their muscular range of motion.
It can be hard to know which muscle groups to target after a workout. The muscle roller stick can be applied to the quads, hamstrings, calves, hip flexors and back to name a few. It can be used for trigger points, deep tissue massage and to overcome muscle soreness.
A company spokesperson said, "The muscle roller sticks supplied by Physix Gear Sport offer a cost-effective solution for individuals who want to get more from their workouts and enhance the recovery process. They can be used by anyone, anywhere, whether they're a pro-athlete or someone who prefers to workout at home."
The muscle roller stick also encourages the movement of lymph around the body, which is crucial to overall wellbeing. For more in depth information, visit: https://www.physixgear.com/blogs/sport-and-wellness/beginners-guide-to-stretching-rolling-and-self-massage-therapy
Release ID: 88953647