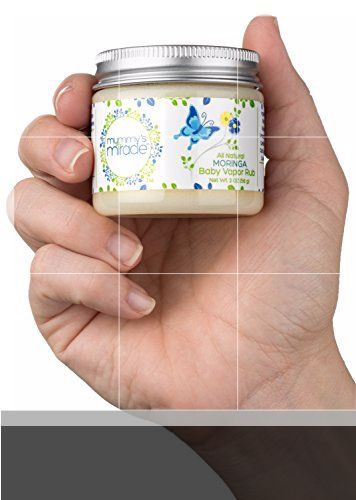 - October 21, 2016 /PressCable/ —
Leading provider of moringa oil natural skincare products, Mummy's Miracle Moringa Baby Skincare has announced the release of their gentle, yet powerful, chemical-free baby vapor rub. All Natural Mummy's Miracle Vapor Rub is a welcome solution for parents looking for a safe, natural alternative to conventional synthetic chest rubs. Made with 100% pure healing ingredients, this all natural baby vapor rub is ideal for infants, children and adults suffering from sensitive skin or airways in need of a non-toxic product to safely and effectively promote clear breathing and a good night's sleep.
The baby chest rub is made from a blend of therapeutic essential oils to open up the airways naturally and promote relaxation, including lavender and eucalyptus. For baby's skin, it also includes vitamins A and D as well as moisturizing, non-greasy shea butter and high quality moringa oil. This nutrient and antioxidant-rich oil is sourced from the moringa tree, which is native to Africa and parts of Asia. It is highly sought after, thanks to its healing and detoxifying benefits. The oil is even known to promote softer, smoother skin in adults with anti-aging compounds such as plant cytokines and omega fatty acids.
Mummy's Miracle Vapor Rub is pH balanced and hypoallergenic, making it suitable for even the most delicate skin. With a commitment to the health of the consumer, the brand, founded by natural health advocate and mother, Ify Nwobi, JD, ensures that all products contain no harsh chemicals, mineral oil, or petroleum-based ingredients. This soothing baby vapor rub is also menthol free, unlike other over-the-counter chest rubs, offering a gentle alternative that won't irritate sensitive skin or chests.
The vapor rub can be massaged gently onto the chest area to ease congestion and support a restful sleep. It is also a soothing balm when rubbed into baby's feet at night. As a natural, supportive healing solution, Mummy's Miracle Vapor Rub can be safely used as often as is needed to relieve the symptoms of colds and allergies. It is available for purchase on Amazon and direct from the Mummy's Miracle website.
Release ID: 139822