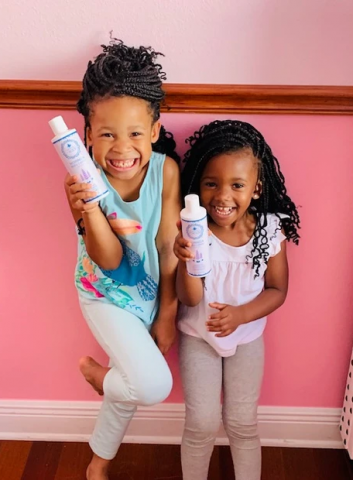 - February 7, 2020 /PressCable/ —
Winter Springs, Florida U.S.A – February 7, 2020 – The power of the beautiful Moringa plant is underappreciated, but Miracle In The Green has embraced Moringa and its healing properties and has brought the awareness of this miracle plant into mainstream America. Miracle In The Green Moringa-based skincare line is plant-derived, cruelty-free, toxin-free, and could be the refreshing change mothers and their little ones need for their skin.
Made from all-natural ingredients, Miracle In The Green was founded by Ify Chuke-Nwobi, an entrepreneur, mother of four, and cancer survivor. Ify had been looking for a toxic-free skincare regimen for herself and her children shortly after her ordeal in 2010. Ify was put off by just how few options there were on the market. In both malls and online stores alike, the only products that seemed to be available were chock full of chemicals or didn't work for her baby's sensitive skin.
Ify set out to find her own and began creating her own creams, oils, and ointments in her kitchen using all-natural ingredients. Ify discovered that Moringa, a tree found throughout Africa and Asia had incredible healing potential for both her and her children's skin. Due to excellent results on her kids, she called the potion, Mummy's Miracle, a hydrating and nourishing solution you can trust, for you and your baby's sensitive skin.
With the highest quality standards and a strict ban on chemicals and other pollutants, you can trust Mummy's Miracle products for both mom and baby. For mothers, the line includes a number of all-natural, food-grade products. This includes the soothing nipple and lip balm, tear-free shampoo and wash and nourishing moringa oil for sensitive skin. All of which Ify tested on herself while she was experimenting with her natural formulas in her kitchen.
There are even more products available for the little ones, all chemical-free. There's vapor rub, lotions, ointments, and oils. Everything is infused with powerful moringa and the perfect combination of other botanicals and plant-derived extracts, with the soothing ointment also infused with vitamins A and D. For those interested in more than one product, they also offer a 'heavenly bundle' for convenience and affordability with over 5 bath time essentials.
As a company, Mummy's Miracle offers a functional, convenient customer-centered shopping experience like no other. From the moment, you click on the website to the day you receive your order, everything is handled with the utmost support and security. Notably, Mummy's Miracle is partnered with several national fulfillment centers, with products strategically placed in warehouses across the country to ensure that customers get their goodies safely delivered as soon as possible.
Alongside fast shipping, they also offer a secure ordering process, a professional support team, a 100% money-back guarantee on satisfaction, new, quality products, and even more features to ensure that every customer feels happy and confident throughout the process. If you're tired of the chemical-heavy, non-organic, and overpriced products that mainstream skin care lines have to offer, Mummy's Miracle could be the change you need. With their high-quality clean products, enthusiastic reviews, satisfaction guarantee, and easy purchase and delivery process. Give Mummy's Miracle Skincare a try today.
Contact:
Lindsey Smith
(321) 348-7974
info@miracleinthegreen.com (US), sales@miracleinthegreen.com (UK/EU)
5703 Red Bug Lake Rd, Unit #175 Winter Springs, Florida
www.mummysmiracle.com/pages/contact-us
Release ID: 88944921