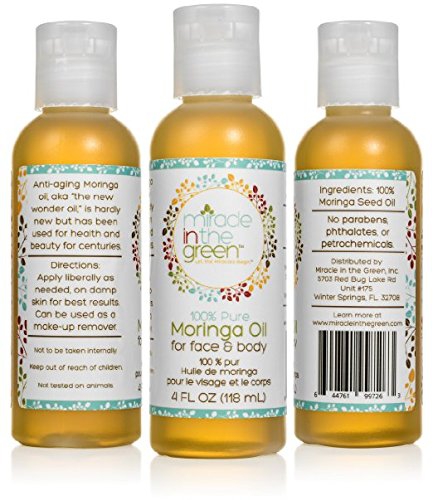 - October 25, 2016 /PressCable/ —
Natural skincare brand, Mummy's Miracle, is excited to announce the launch of their versatile new beauty and skincare product, Pure Moringa Oil. Known for their all natural line of baby skincare products, which are suitable for babies as well as sensitive adults, this 100 percent pure beauty oil is ideal for all ages and skin types. It possesses universal benefits for skin and hair care and can be used for a range of purposes from anti-aging to skin healing.
Moringa oil is prized for its ability to enhance the skin's condition dramatically, leaving it with a shimmering finish and rich, supple feel without clogging pores. What makes it different from other natural skincare oils is its high content of oleic acid. Oleic acid is easily absorbed, which means that when superior grade moringa oil is applied to the skin, it penetrates deeply, bringing the antioxidants, vitamins, and minerals that are found in the oil to skin cells far below the surface.
The nutrient blend found within moringa oil is ideal for keeping skin looking young. High in antioxidants to protect cells against environmental damage, and vitamins A and C to promote healthy collagen production and prevent skin sagging, as well as healing vitamin E, Mummy's Miracle Pure Moringa Oil acts as a potent anti-aging facial oil. For those with sensitive skin or who simply are concerned about applying products with synthetic or toxic ingredients to their skin, it offers a safe, chemical-free alternative to conventional anti-aging creams, lotions, and oils.
Hypoallergenic and free from parabens, fragrances, and other potentially inflammatory ingredients, it is perfect for treating dry skin conditions like eczema and psoriasis, moisturizing and soothing without irritating. Pure Morning Oil can be applied to the face or body to revitalize the skin. It is also a moisturizing hair oil, creating a lustrous sheen when applied, without weighing down hair. With natural antiseptic and anti-inflammatory properties, it can act as a natural makeup remover as well; users can wipe away dirt and makeup while at the same time soothing and cleansing naturally.
With the Mummy's Miracle premium, lightweight blend of community traded moringa oils, a small amount goes a long way. Only a few drops are needed to soften skin, heal scars, condition dry, chapped lips, and make hair and skin appear radiant.
Mummy's Miracle Pure Moringa Oil can be purchased directly from the brand's website and amazon.
About Mummy's Miracle
Mummy's Miracle was founded by healthy living advocate, cancer survivor, and mother of four, Ify Nwobi, JD. Passionate about empowering individuals and families with safe, non-toxic, all-natural skincare products, she created the company around the new wonder oil, moringa, which is sustainably harvested from the African moringa tree. Mummy's Miracle products are gentle enough for babies, yet powerful enough for today's challenging dry skin conditions for adults. The brand continues to develop natural products to fill a need in the market, providing healthy and effective alternatives to many of today's conventional skincare and beauty products.
Release ID: 140575