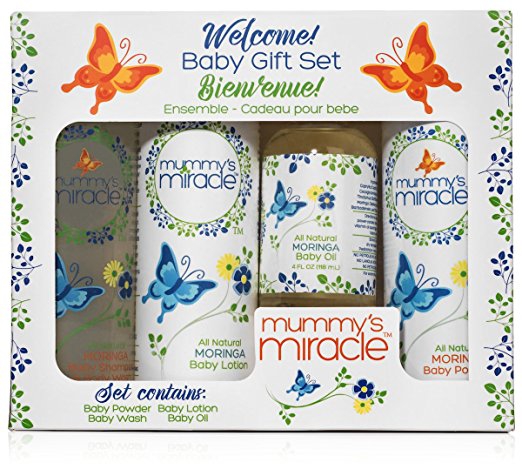 - November 15, 2016 /PressCable/ —
Popular skincare brand Mummy's Miracle has announced the launch of its Baby Gift Set, which contains all the products parents will need to establish a safe and healthy bath-time and skincare routine for their babies. Presented in a beautiful custom-made box, the Baby Bath Gift Set is perfect for a baby shower gift, or for a new mom who prefers to use all natural, beneficial products on her skin.
The Florida-based company specializes in chemical-free, toxin-free products that are safe to use on babies' and children's delicate skin. Their Baby Gift Set contains a range of bath products that have been tested and approved by pediatricians.
The Baby Gift Set comprises the best-selling Mummy's Miracle Talc-Free Baby Powder, Baby Wash and Shampoo, Baby Calming Comfort Lotion, and Baby Oil, all in handy travel-sized packaging for ultimate convenience over the holiday season.
The pH-balanced Baby Wash and Shampoo is free of chemicals and parabens, and contains only natural ingredients: Moringa Oil, rice starch and naturally absorbent corn starch. The no-tears formula makes it an ideal cleansing product for baby's skin and hair.
The Baby Calming Comfort Lotion and Baby Oil contain Moringa Oil, Lavender and Aloe Vera; while the best-selling Talc-Free Baby Powder's formula is designed to combat diaper rash and keep baby's skin soft, dry, and comfortable.
All Mummy's Miracle products are hypo-allergenic, non-toxic and cruelty-free, using only pure and natural ingredients with no animal testing. A key ingredient in Mummy's Miracle skincare products is Moringa Seed Oil, which is extracted from a tree found in Africa and Asia. This natural ingredient offers amazing protection and nourishment for the human skin and body, even helping to combat disease.
The Mummy's Miracle skincare range is just as beneficial for mom as it is for baby; the Calming Comfort Lotion will soothe and moisturize skin of all ages, and the Baby Oil doubles as a highly effective shave gel for smooth, hair-free legs! The Baby Gift Set will prove to be not just a gift for babies, but for moms everywhere, too.
About Mummy's Miracle:
Mummy's Miracle was founded in 2010 by entrepreneur and mother-of-four, Ify Nwobi, who began to develop her own skincare range for her children after discovering the amazing properties of Moringa Oil. She originally worked on the products in her own kitchen. Ify was confident enough in her discovery to try the products she developed on her own skin and then on her children. They proved so soothing and effective that she decided to market the range, calling it Mummy's Miracle. Six years later, the brand is thriving, and moms no longer have to use harsh chemical products on their babies' precious and sensitive skin.
Release ID: 146020