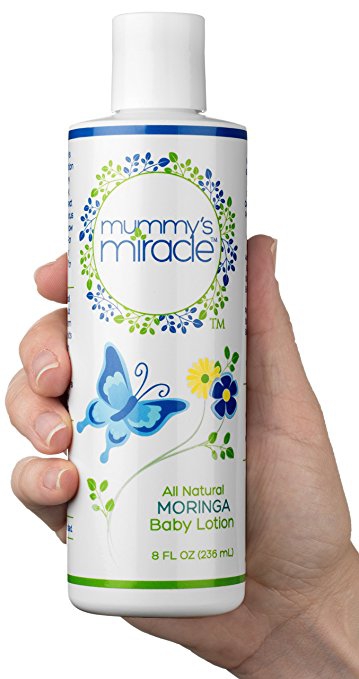 - October 21, 2016 /PressCable/ —
Mummy's Miracle Launches Baby Lotion
Oviedo, Florida – October 21, 2016 – Mummy's Miracle, manufacturers of all natural, eco-friendly baby skin care products, have launched a wonderfully hydrating baby lotion. Mummy's Miracle Moringa Baby Lotion is a non-greasy moisturizer for baby, mom, and all members of the family since it is suitable for all skin types, including sensitive skin. All natural ingredients including moringa oil, aloe vera, and shea butter, make the Baby Lotion ideal for eczema-prone or chapped skin.
Mummy's Miracle Moringa Baby Lotion is chemical free and does not contain any phthalates, petroleum, sulphates, or toxins. Soothing and nourishing, Mummy's Miracle Moringa Baby Lotion is loaded with antioxidants and is sure to be popular with all members of the family. It can be applied to hands, face, elbows, legs, or any other part of their body that needs some TLC, and its moisturizing properties will benefit dry skin, soothe eczema and chapped skin, and help keep skin hydrated to prevent eczema from recurring in children and adults alike.
Organic and environmentally conscious moms are certain to be drawn to Mummy's Miracle products. All of Mummy's Miracle products are eco-friendly since they are produced using sustainable manufacturing processes to make as small an impact on the environment as possible. Pediatrician recommended, the lotion also contains honey extract, vitamin E, coconut oil, and glycerin, as well as white tea extract to hydrate and protect delicate skin.
Moringa oil is extracted from the seeds of the Moringa tree which are native to some parts of Asia and Africa. It acts as an antioxidant, anti-inflammatory, and emollient, and has many other therapeutic properties. This makes it the perfect ingredient for a skin care product that is applied straight to the skin to moisturize, soothe, and massage. Baby massage has proven benefits in terms of mom and baby bonding. At the same time as a gentle massage, baby's skin receives essential hydration and the calming, natural fragrances provide a tranquil ambiance. The Baby Lotion is available from Mummy's Miracle website: https://www.mummysmiracle.com
About Mummy's Miracle
Ify Nwobi founded Mummy's Miracle Moringa Baby Skincare because she recognized a need for a toxic-free skincare range for herself and her family. Mummy's Miracle is the world's leading natural moringa-based skincare producers. Their organic, all natural products are freshly made. Pioneers of fair trade, Mummy's Miracle follow stringent standards to ensure their products are all natural and free from chemicals or pollutants.
Mummy's Miracle baby skincare products are available for purchase online. Shipping is free within the U.S on purchases over $50 and Mummy's Miracle can arrange to ship their products to consumers outside the U.S.
Contact:
Website: https://www.mummysmiracle.com
Mummy's Miracle
5703 Red Bug Lake Rd, Unit #175
Winter Springs, FL 32708
4520 Old Carriage Trail
Release ID: 139808