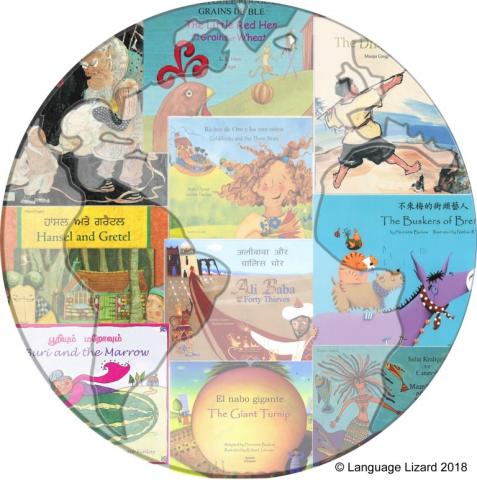 - January 21, 2020 /PressCable/ —
BASKING RIDGE, NJ – JANUARY 21, 2020
Language Lizard LLC, a leading supplier of bilingual books and audio resources in over 50 languages, is a Platinum Sponsor of Multicultural Children's Book Day (MCBD) on January 31, 2020. This annual event seeks to raise awareness about the need for more diverse, multicultural children's books. To date, MCBD has donated over 7,000 diverse children's books to schools, libraries, and families.
To celebrate MCBD, Language Lizard is offering special discounts on a variety of Bilingual Book Sets, featuring their most popular titles, that celebrate diversity and teach children about different languages and cultures.
According to the Cooperative Children's Book Center, there has been a substantial increase in the number of children's books that feature non-white main characters, going from just 10% in 2013 to 31% in 2017.
However, that rising number masks the fact that only 7% of children's books in the US were written by people of color in 2017, a phenomenon known as the "publishing diversity gap."
The limited percentage of multicultural children's books is even more pronounced when you consider that more than half of students in the US are non-white. It can be disheartening for students of color to read books, year after year, that feature characters and stories they don't relate to.
"There's a magical connection that happens when we see ourselves reflected in the pages of a book," says Anneke Forzani, President and Founder of Language Lizard. "Children get a boost in self-esteem when they read books that represent their cultures and identities. Multicultural books open the eyes of all students to the beautiful diversity in our world. Books are a great way to understand another person's experience, to understand their point of view, in an authentic way."
There are several ways readers can show their support of MCBD, and raise awareness of the need for more multicultural children's books. Readers can use #ReadYourWorld on social media, and share their appreciation for multicultural stories with diverse characters.
For those who participate in MCBD's eBook fundraiser, 100% of the proceeds will be used to gift multicultural books to classroom libraries. Also available for download are a free Classroom Poverty Kit that helps young readers understand poverty in America, and a free Classroom Physical and Developmental Challenges Kit to help children understand and celebrate our differences.
Release ID: 88942796