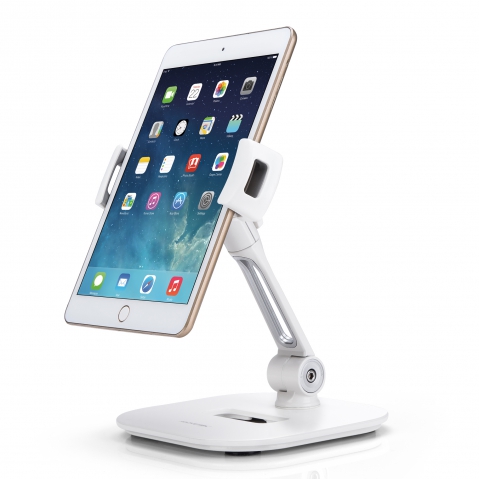 - May 14, 2017 /PressCable/ —
With Mother's Day approaching, AboveTEK has launched a new Ergonomic Comfortable Multi Angle Tablet Stand as the perfect Mother's Day gift. The new tablet stand is a gift mothers will use and makes a much better option than a more traditional gift like chocolates which don't offer lasting benefits. AboeTEK explains when searching for the right gift for Mother's Day, people should consider something their mother will need on a daily basis.
More information can be found at: https://amazon.com/dp/B06XVL8WP1.
The AboveTEK desktop tablet stand has a universal holder to fit all major 4-11″ display tablets and phones. In addition to this, the base, the arm and the holder can all rotate 360 degrees or fold in different directions to allow the user to benefit from a number of different viewing angles.
On the Amazon page listing, customers can discover that the stand is very sturdy and completely wobble free. This means that it can withstand the weight of large tablets. It also has a DSLR camera adapter included, allowing people to mount their camera or a projector.
This means that, in addition to it being used as a way to hold a tablet for practical working use, it can also be used for entertainment. Users can enjoy movies and games while their screen is held at an optimum and comfortable viewing angle, whether on a desk or in bed.
There are a number of benefits to using a stand for a tablet, especially if it's used frequently or at length throughout the day. People who sit at a computer or use a tablet extensively often put their bodies in uncomfortable positions. Using a well designed tablet stand can help to ensure they don't suffer aches and pains.
The AboveTEK tablet stand has a heavy aluminum base and arm to form a rigid structure, supporting a wide range of viewing angles. Its ergonomic shape matches the sleek design of modern gadgets, and the versatility allows it to be used in a number of different ways.
Full details of the product can be found on the URL above.
Release ID: 199342