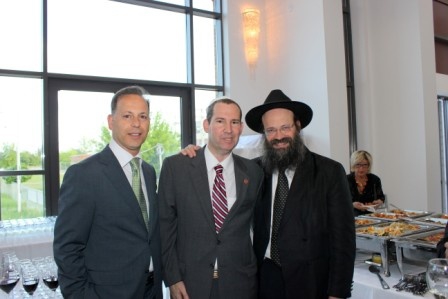 - September 14, 2016 /PressCable/ —
"At one point or another, Beth Chabad will have touched your life." This statement has been heard and said by many. Some actions speak volumes while the action taker seeks only the fruition of a dream. A place where one can celebrate, mourn, learn, grow, a place with a wider horizon, where one can stretch their limits. Whether a boy, a man, a girl, a woman, a human being within the Jewish community, Chabad is and will always be a welcome starting point.
An idea began to grow at 5534 Earle Road in 1986, and progressed until August of 2012. A place is needed in Côte St. Luc, to have celebrations, parties, gatherings, study groups/learning center, etc. A place where everyone will feel welcome and not crowded. A place that can welcome lots of people.
Mr. Jacob Attias had to be part of this exciting project. It is close to his heart, as this complex is part of making his dreams come true. To ensure its realization Mr. Jacob Attias undertook the responsibility as President of the Construction Committee as well as the President of the Finance Committee.
What drew Mr. Jacob Attias to this project was the inclusion of a Community Youth Center. It is featured on the first floor and spans an incredible 20,000 square feet. This space smartly incorporates entertainment and education in a very modern environment for today's and tomorrow's youth. Children of all ages, can share their time between pool tables at the youth lounge, work on computers with internet access in the computer room, eat or have a snack in the cafeteria as well as study in a beautiful and well equipped library.
Apart from housing these amazing designated areas, the Community Youth Center is also home to a year round nursery and daycare. In the summer, the Community Youth Center provides one of the most popular camp in Côte St. Luc! Staffed with qualified monitors from Montreal and the United States, this camp welcomes all youth from across the Island of Montreal, Laval and the South Shore. No youth is left out. This is where friendships begin and grow, this is where opportunities to give back to the community are encouraged, this is community spirit reinforcing every youth's positive needs.
Included on the second floor of Beth Chabad Hechal Menachem Complex is an elaborate and beautiful Hall, that can accommodate close to 600 people. Adjoining the Hall, on the second floor, is a well thought out Sanctuary. This is important as there are very few halls, and synagogues, in Montreal that can comfortably accommodate this capacity. Furthermore, It will be equipped with state-of-the-art audio equipment and screens to hold community wide Jewish educational conferences, community lectures, symposiums and seminars throughout the year. This will be the place to hold holiday celebrations, weddings, brit milot, bar/bat mitzvahs in addition to many other occasions which can all be held in one elaborate and sophisticated setting.
Beth Chabad Hechal Menachem is located in Cote St. Luc, at the corner of Kildare road and Marc Chagall avenue. The completion of this complex has earned Mr. Jacob Attias and Mrs. Therese Attias the Builders Award.
Release ID: 132522