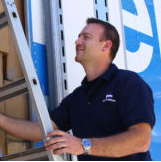 - September 27, 2016 /PressCable/ —
Moving company in Orange County, http://executivemovingsystems.com has come a long way. Right from its humble beginnings twenty five years ago, where the owner and founder Justin Bird started off the company with just one truck and 3000 square feet of space, the firm has grown over the years to become an exemplary moving company in Orange County and beyond. The company is celebrating its twenty fifth birthday this year. While making this announcement, the company founder Justin Bird, said that he is excited to be marking this important event and milestone in the company. "We have come a long way, since I established the company, we had only one truck and a small office downtown, now we are proud to be among the major players in the industry," said an elated Justin Bird.
Over the years the moving company in Orange County has grown into a full service moving and storage firm with an expansive fleet of vehicles and 35,000 square feet of storage facility. Mr. Bird, associates this achievement to dedicated services and loyal customers. "We have grown knowing that the customer is king, always aiming at meeting the needs and in most of occasions if not all surpassing the expectations," said Mr Bird. He was grateful to the customers, as they have remained loyal over the years, hiring their services and making Executive Moving Systems their sole moving service provider in Orange County. Mr Bird revealed that most of their businesses have come from repeat customers as well as those who have always been referred by their loyal customers. "We have always put our customers first, and that is why they cannot hesitate to refer us to other people who may need moving and storage services. We dedicated this anniversary to all our customers and partners, without them we would not have made it this far," said Mr Bird.
Executive Moving Systems started off with moving services but has over the years progressed to offer a variety of services. Today, the moving company in Orange County provides warehousing, distribution, industrial moves, exhibit and fine art relocation services.
Apart from customer loyalty, the moving company has been recognized for its exemplary performance. It has received several awards and accolades, these include the "Perennial Service to Excellence Award", The Customer Choice Award and the prestigious "Most Valuable Agent Award" According to Mr Bird, these awards came as a result of dedicated service to the customers as well as desire to move the industry to the next level. He promised to keep the fire burning with continued effort to grow partnerships with the loyal customers and other like minded moving agent service providers in Orange County.
Customers have not been left out in appreciating the services the moving company has delivered over the years, a couple named Mark and Melanie said they have never regretted, they have used the services of Executive Moving systems ever since it was recommended by their cousins. "We congratulate this wonderful moving company in Orange County for excellent services," said Mark and Melania. Many other customers have congratulated the moving company wishing them a happy future.
Release ID: 134490