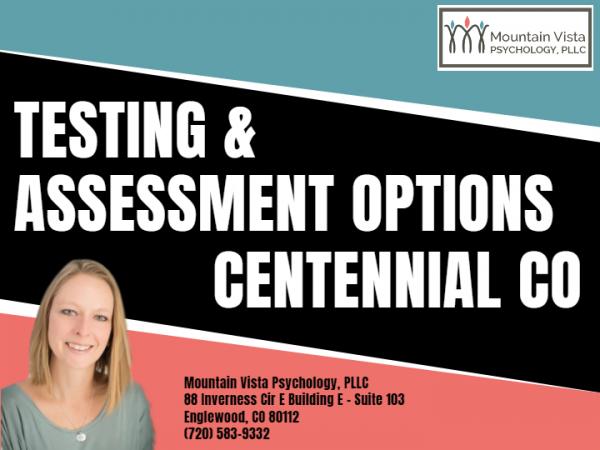 - February 5, 2020 /PressCable/ —
People are being more proactive about getting themselves and/or their children psychological testing and assessments in Arapahoe County. Studies have shown an increase in individuals wondering whether they or their children might have ADHD, Autism or a learning disability, which can be determined by talking to a specialist. However, finding a professional in the Centennial CO area and beyond has proven to be a difficult task for many, and Mountain Vista Psychology has set out to make this information more accessible for the local community.
Mountain Vista Psychology carries extensive experience in conducting psychological testing and assessments. The assessment instruments utilized by the psychologists are considered to be the "gold standard" in the field. With having such a structured and professional process, MVP focuses on getting these uncertain people to access to help through the means of professional testing and diagnosis.
ADHD testing and an ADHD diagnosis have the ability to open the door for understanding and support. Before testing is completed, people may not be sure if it is ADHD or not. They could possibly wonder if it's ADHD or maybe it's just a lack of motivation. So an ADHD evaluation can be extremely helpful! ADHD testing helps create a clear understanding of the strengths and areas of needed support. Whether or not a diagnosis is given, you will have an idea of how to improve the quality of life. Many people who complete the ADHD testing process and receive an ADHD diagnosis choose to share the results. An ADHD diagnosis can open up the possibility of receiving extra support, services, or accommodations. Parents may take the results to their child's school. Adults may take the report to their college and work with the school to get accommodations specific to their learning needs. Reports created by Mountain Vista Psychology have been used to support people still in k-12 education or in college. In addition, MVP has worked with people who need documentation for accommodations on the SAT, ACT, GRE, LSAT, and MCAT.
For Autism Spectrum Diagnoses, MVP offers thorough evaluations for toddlers through adulthood. This can be a stressful time and the goal is to support individuals throughout it. After testing is complete, a written report is provided along with an in-person feedback session. MVP reviews strengths and areas of needed support with you. Individuals receive recommendations based on testing results so they'll know they are headed in the right direction. Every effort is made to be supportive and guide individuals through the process.
Mountain Vista Psychology also does a complete Learning Disability testing for children, teens, and adults, ensuring a thorough Learning Disability evaluation is completed so that one understands their strengths and areas of needed support. Gold standard tests are used that are recognized by K-12 schools, colleges, and standardized testing boards. After a Learning Disability testing is complete, a report and an in-person feedback session are done to go over test results. MVP will provide answers to questions and discuss recommendations going forward.
If you're looking for more information on ADHD, Autism, or Learning Disability Testing and Assessment, contact Mountain Vista Psychology. The initial appointment offered is a 20-minute free phone consultation to discuss needs.
Release ID: 88945148