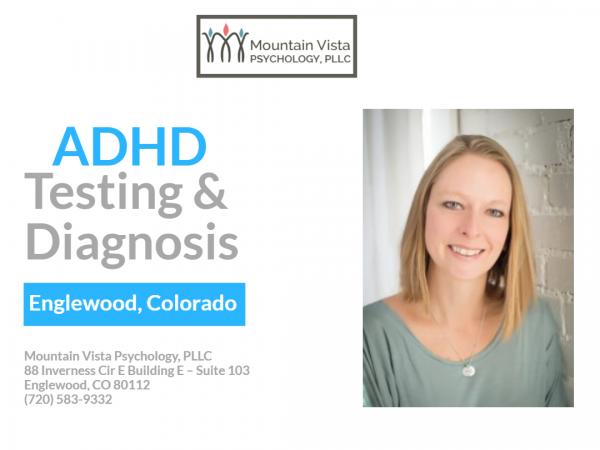 - March 1, 2020 /PressCable/ —
ADHD testing and an ADHD diagnosis can open the door for understanding support. Before getting tested, one may not be sure if they have ADHD or not. People wonder, "Is this ADHD or lack of motivation?" To answer this question thoroughly, Mountain Vista Psychology has built up a strong presence in Englewood, CO and extending into surrounding areas, to provide more information as well as to make the opportunity to get a diagnosis for ADHD more accessible.
Mountain Vista Psychology does a lot of testing for adults, teens, and children to help determine an ADHD diagnosis. Their assessments are thorough and in line with best practices in ADHD assessment & ADHD diagnosis. With a complete written report and an in-person feedback session when testing is finished, MVP helps to create a clear understanding of strengths and areas of needed support. Whether or not a diagnosis is given, a client will have an idea of how to improve life.
Many people who complete the ADHD testing process and receive an ADHD diagnosis choose to share the results. An ADHD diagnosis can open up the possibility of receiving extra support, services, or accommodations. Parents take the results to their child's school. Adults take the report to their college. They then work with the school to get accommodations specific to their learning needs. MVP's reports have been used to support people still in k-12 education or in college. In addition, MVP has worked with people who needed documentation for accommodations on the SAT, ACT, GRE, LSAT, and MCAT.
Mountain Vista Psychology will also modify their ADHD testing to the needs of their clients on a per basis account, but a typical ADHD assessment includes an interview, rating scales, an intelligence test, and a continuous performance task. This thorough assessment process is designed to ensure that clients receive as accurate a diagnosis as possible.
If you think you or your child has ADHD, an ADHD evaluation done by Mountain Vista Psychology can be extremely helpful. Any questions about the process or an appointment can be made by contacting MVP at (720) 583-9332.
Release ID: 88948384