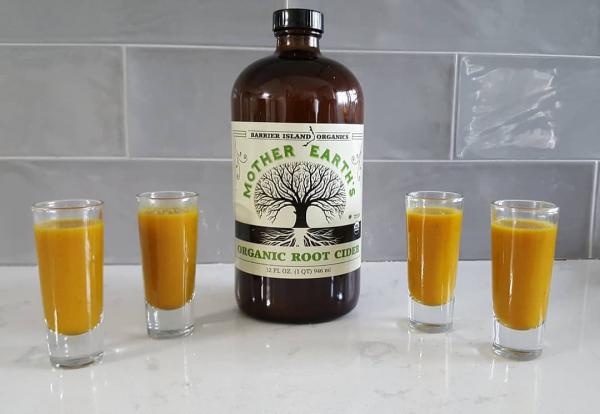 - May 18, 2018 /PressCable/ —
Barrier Island Organics has just announced its new endeavor, to take on Shire City Herbals's Fire Cider with their own Mother Earth's Organic Root Cider by producing its 100% organic apple cider based raw cider. This looks to be great news to all health food consumers and should prove fortunate to anyone looking for made from fresh, whole organic roots & vegetables better alternative.
Further details can be seen at https://barrierislandorganics.com
Barrier Island Organics, a popular made from scratch root cider producer that is based near barrier islands of the Outer Banks of North Carolina, has decided it will make a real push to be known for its unique blend of unfiltered roots and vegetables to be known as the preferred choice for fire cider enthusiasts that want the convenience of a pre-made high quality and dense root cider. Made with only the freshest ingredients from around the world, anyone interested in a healthy lifestyle searching for a made from scratch, fresh, whole organic roots & vegetables drink – would want to choose Mother Earth's Root Cider instead of Shire City Herbals product for many reasons.
Mark Welch, Owner at Barrier Island Organics, says: "We wanted to give our customers the most dense,organically raw & unfiltered choice available. You can tell they are now making a bit of noise about it, because it started pretty simply in their kitchen and has grown from there to what it is today."
Barrier Island Organics has tried to separate itself from the competition since its inception, striving to do better than other similar pre-made root & fire ciders around. In fact, they are getting ready to launch a maple flavored product soon.
Mark Welch is also very proud about every ingredient that goes into Mother Earth's Root Cider which is an extremely dense drink and not watered down. In fact, he believes this is a key motivator for customers who have decided to go with their product, as opposed to Shire City Herbals, for the last four years -once they've tried it they are hooked.
This announcement is a great opportunity for folks who want a tonic that is made from fresh, whole organic roots & vegetables and would like to try out one of the most dense, organic, unheated and never pasteurized root cider available from Barrier Island Organics – so the call goes out to new customers and find out what our repeat customers know, you can expect to enjoy the highest quality product possible.
Mark Welch also said: "While Barrier Island Organics might not be the only ones in the root cider industry to be doing this, I'm extremely confident we do it the best and so I expect anyone interested in good health practices will continue to choose us over Shire City Herbals, since all ingredients are unique and our product is very dense and filled with wholesome goodness. Try a bottle today, you will see and feel the difference-guaranteed."
Further details can be seen Barrier Island Organics and their Most Nutrient Dense,100% Organic Raw & Unfiltered Tonic Available. can be discovered at https://barrierislandorganics.com
Release ID: 346338