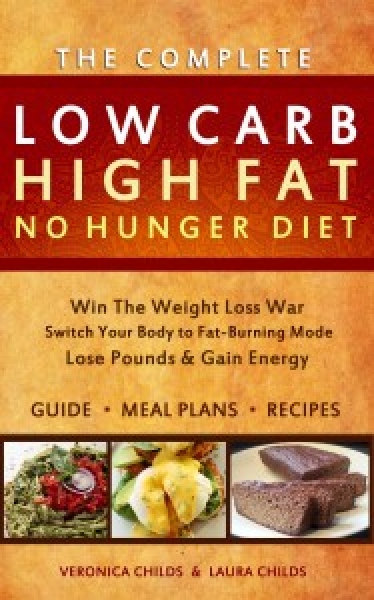 - August 1, 2014 /MarketersMEDIA/ —
Kitchener,Ontario, Canada – /PressCable/ —

A Canadian mother and daughter teamed up to help others by publishing their lowcarb high fat diet book "The Complete Low Carb High Fat No Hunger Diet".
Motivated by a startling diagnosis of "borderline metabolic syndrome, with Type 2 Diabetes expected to follow, and seeing her 19 year old daughter gain 40 pounds in less than a year, a 50 year old mother decided

to take the family's health matters into her own hands.
The results of this health threat led Laura Childs, a work at home mom for the past 20 years, on a rapid journey where she lost 41 pounds; Veronica , her daugfhter ,a retail store manager , has lost 35 pounds. They

claim they were never hungry, did not count calories, and made no changes to their activity

level. "All the credit," Childs says, "is to cutting empty carbohydrates and increasing healthy fats."
Having seen it working for them ,after long bouts of research on Ketogenesis they set out on a path to help others .Both mother and daughter wrote their own story and had it published several months later.The book, "The Complete Low Carb High Fat No Hunger Diet" is more than a diet. It reached Amazon best seller status upon its initial release.
It contains

the personal account of both mother and daughter on their weight loss journey.

The book covers:

- A Cursory View of Popular Diets,

- Introduction to Macro-nutrients (fats, carbs, and proteins),

- Signs That You Might Need Additional Supplementation,

- Hidden Sugar (glucose) and Chemicals in Foods,

- Best Foods to Buy Organic,

- Sugar Substitutes to Avoid,

- What You Need to Know About Smoke Points of Fats and Oils,

- Cooking Tips,

- Healthy Substitutions for Starchy Foods,

- Weekly Meal Plans (and their shopping list),

- 80+ recipes with complete nutritional breakdown.

For more information about Laura and Veronica Childs and their Low Carb High Fat book,

please visit: www.ketohybrid.com and www.lowcarbhighfatdiets.com. For interviews with either

or both authors, please contact Laura Childs at 226.567.8900 or laura@ketohybrid.com
Contact Info:
Name: Laura Childs
Email: laura@ketohybrid.com
Organization: Hula Books
Website: http://www.ketohybrid.com
Phone: 2265678900
Address: Suite 672, 693 Peel Street, Delhi,Ontario N4B 2H3
Release ID: 57445