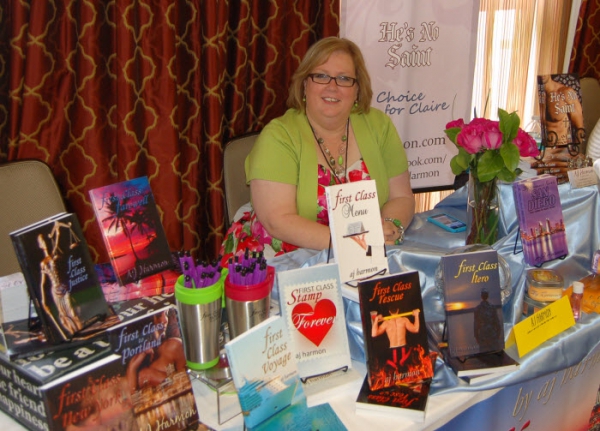 - February 24, 2016 /PressCable/ —
Earlier this month contemporary romance author AJ Harmon announced she would be giving away free eBook downloads to celebrate Valentine's day. Romance readers claimed over 35,000 copies of "First Class Voyage" on Amazon and iTunes for February 21, 2016 making it the most downloaded contemporary romance novel on that day.
The free book is available for the most popular e-Reader formats; Kindle, Nook and iTunes, and the building momentum climaxed on Sunday when the eBook hit number one in the "Romance > Contemporary" and "Romance > Romantic Comedy" categories, before peaking at number three in all free books on Amazon.
"The promotion has been a great success," stated Harmon in a telephone interview with LoveRomanceNovelsOnline.com. "Thousands of new romance readers have been introduced to the series and thousands of fans who started the series have been re-energized with a free eBook in the middle of the series."
First Class Voyage is the fourth book in the First Class Novels series. First Class Family – the complete collection is a USA Today bestseller and solidified Harmon's career as a romance novelist. As a self -published indie author, AJ Harmon is beating the odds and enjoying the growth in the romance industry.
According to the UNESSCO, 2,088,394 new book titles were published around the world in 2015, with the USA and UK leading the way with 328,259 and 206,00 new book titles published. On average that is 1,464 new English language books every day, on top of the 129 million books Google has already indexed. Romance readers have more choices and more choices of authors and books every day. Amazon lists 353,487 romance novel titles available in the Kindle eBook store. With so many books available it is impressive to have any book at the top of a best seller list, let alone a self-published indie romance author.
Using free eBook promotions to attract new readers has been an important marketing strategy in launching Harmon's writing career. AJ published her debut novel in November of 2012 and four weeks later she released her second book and ran a free book promotion with First Class To New York to attract new readers. It worked and over 30,000 copies were downloaded between Christmas and New Year's Day and she went from a no-name, would-be-author to a rising star overnight.
Continuing to apply the strategy, Harmon regularly offers book one in a series for free; First Class to New York or San Diego – Love Comes In Many Forms to encourage new readers to try a new author or romance novel series. AJ has enjoyed success with this strategy, while other authors complain that free book promotions devalue their work and makes it difficult for them to compete and make a basic living.
"It's true that free book promotions have created an entire class of readers that only download and read free books online," Harmon observed. "But they were never going to buy anyone's book anyway. Offering free romance novels allows readers to test drive new books before committing to read the whole series. It works because good books are like chocolate and potato chips – you can't read just one." To discover more about contemporary romance author AJ Harmon, visit her website or follow her on Facebook and YouTube.
(http://newswire.net/newsroom/pr/00091781-free-romance-books-valentines-day.html)
About AJHarmon.com
AJ Harmon published her debut novel in November of 2012 on Amazon. She now has 15 novels and 6 novellas available from Kindle, Nook and iTunes. She has just released her first audiobook "A Choice For Claire" available on Audible.com
AJHarmon.com
744 E Scenic Drive Portland, Oregon 97201 United States 541-705-2670 AJ@AJHarmon.com http://AJHarmon.com
Source: http://newswire.net/newsroom/pr/00091912-most-downloaded-free-book-online.html
Release ID: 104700