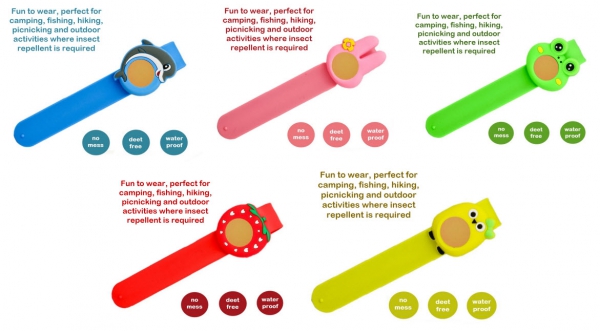 - April 4, 2016 /PressCable/ —
Essencell, an Amazon company specializing in creating and selling natural mosquito repellent cartoon slap bracelets has announced a second release of its new bracelet to meet high demand from customers. All of its bracelets are available in a range of colors, including blue, green, pink, red and yellow with designs featuring dolphins, strawberries and frogs, among other child friendly characters.
More information can be found on the Amazon site at: http://amazon.com/Essencell-Cartoon-Mosquito-Repellent-Bracelet/dp/B012M8N4OG.
The child friendly natural mosquito repellent bracelets have amassed over 150 reviews on Amazon, with 74% of them glowing five-star comments. Customers have praised the designs, and the refillable nature of the bracelets, which don't need to be replaced like many others on the market. They have also recommended the products because each bracelet only makes use of 100% natural ingredients.
Parents can buy a bracelet for their child knowing that it is completely safe for children and babies. They don't make mess or spray, and feature no DEET or chemical properties, which can irritate skin. The natural active ingredient list includes a compound essential oil of citronella, peppermint, geranium and geraniol. These essential oils disrupt a mosquito's ability to sense, which stops them getting close to the wearer of the bracelet and prevents the child getting bitten.
The slap bracelet design combines with the cartoon style to make a fun product that children can actively enjoy wearing, and because they're water proof they can be used even by the most active children. They can be used for people playing football, soccer, volleyball, or golf, as well as camping, fishing and hunting. Out of the box, the bracelet can provide thirty days of protection, and each one comes with two refill packages, which offer fifteen days of protection.
Because each bracelet employs no spray technology, customers can enjoy the outdoors safe in the knowledge that there will be no messy oils being rubbed into materials or getting into their children's eyes. Anyone not completely satisfied by the product can make use of a lifetime money back guarantee with no questions asked.
Release ID: 109296