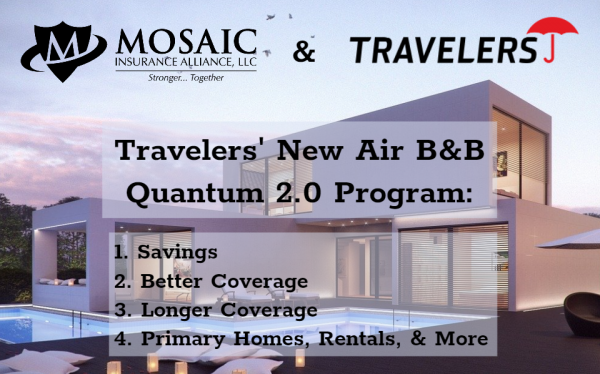 - April 23, 2020 /PressCable/ —
Paul Pukis
Mosaic Insurance Alliance, LLC.
425-320-4263
Paul@mosaicia.com
Lynnwood, Washington: Independent insurance agency, Mosaic Insurance Alliance now has access to Travelers Insurance's new Quantum 2.0 Home Insurance Program that will help clients get better Air B&B coverage while saving money.
The 2.0 program allows policies to have the "Home Sharing Host Activities" endorsement for a fraction of the cost, and opens up the possibilities for clients to get coverage on their primary and secondary homes that they fully or partially rent out.
Other insurance carriers tend to be much higher in premium. Also, the general run of the mill home insurance company will either not accept people using their primary or rental homes with an Air B&B exposure, or they will provide only an endorsement to cover only up to 30 days a year. Since a lot of people use their vacation homes during the summer for personal use or to rent out, that 30-day restriction creates a huge gap in coverage. Mosaic Insurance now has significantly lower rates on Airbnb host insurance for 1-181+ days, with the option to do daily, weekly, or monthly increments.
When Mosaic Insurance creates a Travelers 2.0 homeowners insurance policy, they have the option to cover entire rooms, entire floors, a garage, a guesthouse, and/or other structures on the property. For example, if a client has a couple of rooms in their basement that they rent out about 90 days of the year, a Mosaic Insurance agent can run a free home insurance quote with Travelers and get a policy that has a lower annual premium with more dwelling coverage compared to a policy from another insurance retailer.
With Airbnb rentals, hosts do not always really know who they are renting to. The place that is being rented out can also be far from the host. Having vacation rental home insurance on a home that cannot be monitored while it is in use can help protect the owner against damages from carelessness, vandalism, theft, etc. brought on by the renters. For this type of host protection insurance policy, it generally covers the liability (in the event of a lawsuit) and property of the insured (in case anything is damaged). Since the policy is to protect the owner and the owner's property, the person who is the Air B&B occupant has no coverage.
Give Mosaic Insurance Alliance a call at 425-320-4280, or email them at info@mosaicia.com. Mosaic's active hours are Monday-Friday, 8:30 am to 5:00 pm. View all their insurance options on their website.
Release ID: 88954710