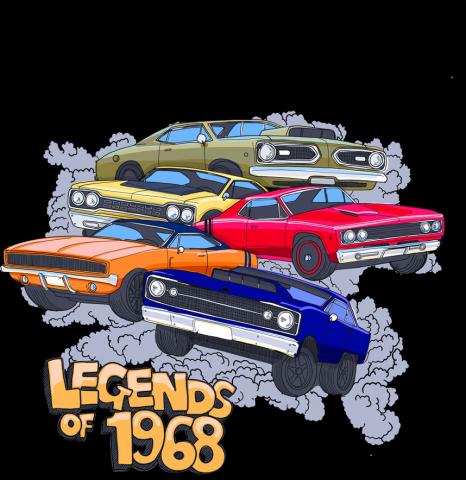 - May 29, 2018 /PressCable/ —
The Mopars, those old beasts with a new shine, will gather again in Ohio at the eagerly awaited 2018 All Mopar Car & Truck Show. The Mid-Ohio Mopars, a non-profit club based in Wooster, will organize the 27th edition of this annual swap meet and car corral, and to make it extra special, Quarter Mile Addiction, the maker of premium drag race merchandise, has released a new set of Premium T-shirts with the 'Legends of 1968' a Mopar tribute shirt. More information about the shirt can be found here https://www.quarter-mile-addiction.com/first-muscle-car-legend-series
The Mopars are celebrating 50 years of racing raw and untamed. When the gates open at 8am on June 15-17 at the newly refurbished Dragway 42, Rainbow Hwy, West Salem, Ohio, visitors and vendors can walk in with pride wearing the 'Legends of 1968' Tee that sends forth the vibes of five iconic muscle cars of 1968 – the SS Barracuda, Plymouth Roadrunner, Dodge Coronet/Superbee, Dodge Charger and the SS Dart.
On the grounds and indoors, there will be plenty of action, and a bright, sunny day to get a glimpse of old beauties, like the Dart, Super Bee, Roadrunner, Superbird, Hemi, Coronet, Power Wagon, Duster and more. The main event includes car corral, drag racing and swap meet, and there will be food trucks as well to keep the momentum going all day long. The car show will be held on Saturday, and prospective visitors can get hold of the premium 'Legends of 1968' T-shirt just in time with fast shipping.
The 'Legends of 1968' is a special edition of T-shirts as well as merchandise that includes posters, wall papers, hoodies and mobile covers, all featuring the five legendary muscle cars. The artwork is satin, and the material is soft, signature cotton blend that is pre-shrunk and machine wash ready. All merchandise is made in the US, and comes with standard and fast shipping options.
Apart from the Mopar show, other drag car events this year make it a good time to buy the 'Legends of 1968' T-shirt and merchandise. These include the Carlisle Chrysler Nationals and the NHRA US Nationals. Those unable to make it can still get at taste of the season with the new 'Legends of 1968' merchandise available from the official Quarter Mile Addiction store..
Release ID: 350103