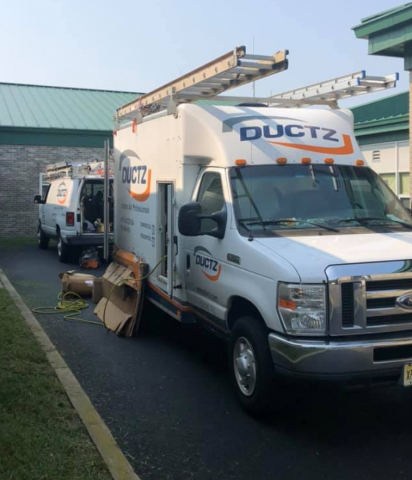 - September 22, 2021 /NewsNetwork/ —
DUCTZ of Monmouth and Central Jersey has launched its updated indoor air quality solutions for residential and commercial clients in Monmouth, Wall, Central Jersey, and the surrounding areas.
More details are available at https://www.ductz.com/monmouth-central-nj
The latest update provides schools and commercial clients in Monmouth and Ocean County with air duct cleaning and HVAC restoration to improve indoor air quality for students and staff.
According to the Environmental Protection Agency (EPA), contaminations in a building's air ducts or HVAC systems can cause sinus and respiratory health problems. With the latest announcement, DUCTZ of Monmouth and Central Jersey ensures that schools circulate clean air to protect students and teachers.
In particular, the company's cleaning services safeguard clients against SBS or "sick building syndrome." The EPA recognizes SBS as a condition that commonly occurs when occupants spend significant time in a building — such as a school or an office — with poor ventilation and airborne contaminants.
When a building requires sanitization, DUCTZ of Monmouth and Central Jersey conducts a thorough inspection of the air ducts and then establishes a cleaning plan. Depending on the location, they will remove microbial contaminants, general debris, and insect infestations from ductwork and components to improve air quality.
Critically, their technicians adhere to standards put forth by ACCA, EPA and NADCA (National Air Duct Cleaners Association) standards. To further ensure a building's air systems are clean, DUCTZ not only cleans air ducts and exhausts but also installs UV light purification units, air filter upgrades and seals air ducts.
DUCTZ of Monmouth and Central Jersey also explains that a clean HVAC system improves energy efficiency. In fact, a recent Energy Information Administration study found that HVAC systems are responsible for over 30% of a building's consumed energy — a percentage that will increase without proper cleaning and maintenance.
About DUCTZ of Monmouth and Central Jersey: With the update, the company continues to provide clients with affordable access to indoor air purification. During their years in business, DUCTZ of Monmouth and Central Jersey has developed an honest and reliable reputation.
"Their team was efficient, effective, and personable," said one satisfied client. "Before the job, they explained their process and pricing, and everything went extremely smoothly from beginning to end. And once they were done, the team took care of my property as they moved their equipment. I'd recommend them to anyone."
Want to learn more about DUCTZ and schedule your assessment? Visit: https://www.ductz.com/monmouth-central-nj
Release ID: 89046531