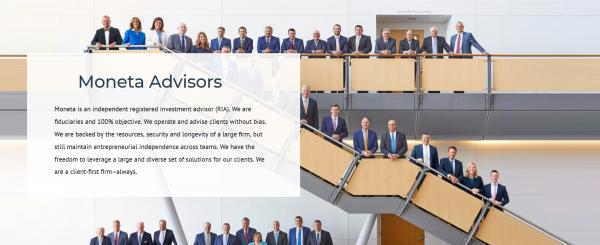 - October 4, 2019 /PressCable/ —
CHERRY CREEK, CO, Sept. 3 – Moneta, the wealth management firm InvestmentNews ranked as the nation's second largest fee-only Registered Investment Adviser (RIA) with more than $20 billion in assets under management (AUM), opened its first expansion office in Cherry Creek after 150 years of making St. Louis, MO its exclusive home.
Moneta is actively hiring Denver investment advisors to join the St. Louis team members who moved West to launch the new location at 200 Columbine St, Denver, CO 80206.
"As we grow, we believe maintaining the culture of our firm is important to our success. The talent moving to Denver brings with them years of institutional knowledge operating as an RIA. Combine that with local market talent, and we look for the steady kind of growth we achieved in St. Louis," Moneta's Managing Partner and Chairman of the Board, Eric Kittner, said.
Moneta is also talking to culturally aligned firms considering a partnership with Moneta, with one merger currently pending.
"We are finding other RIAs like what we have to offer," Kittner said. "Our institutional knowledge and resources are empowering, but we have also maintained the entrepreneurial spirit that motivated many to build their own firm to begin with."
During the last four years, Moneta's President and Chief Operations Officer (COO), Keith Bowles, led the development of Moneta's investment advisor support platform, a unique blend of digital capabilities and leading professionals in their fields that manage the aspects of the business advisors don't enjoy or have the means to do.
"Advisors who partner with Moneta gain access to an enriched culture, a platform that provides economies of scale and 30-plus years of institutional knowledge from 120-plus advisors that empower them to serve their clients even better," Bowles said.
Moneta's scalable platform, built and owned by advisors for advisors, is designed to help accelerate growth by providing advisors with strategic planning and operational efficiencies. Nearly 80 industry professionals make up Moneta's Enterprise Service Team (EST) with expertise in investment services, cybersecurity and technology, legal and compliance, marketing, human resources, talent development, business systems, operational services, accounting, finance, data analytics, estate planning and tax services.
"There are several options out there for advisors looking for more resources, but none with the kind of systems and personal support like we have," Bowles said. "Our Enterprise Service Team (EST) leverages strategic planning, operational efficiency, human capital and financial management to deliver a level of service our 23 advisor teams can't find anywhere else. That's a key differentiator for us in any market."
About Moneta
Moneta financial advisors empower successful individuals, families and organizations to navigate life's path and protect what they cherish. Barron's ranked Moneta No. 4 among the nation's independent RIAs in 2018 for its combination of quality and scale. The firm consistently earns praise for the way it invests in and takes care of employees: In 2019, InvestmentNews ranked Moneta Group Investment Advisors among the nation's "Best Places to Work for Financial Advisers" for the second straight year, the St. Louis Post-Dispatch ranked Moneta among its "Top Workplaces" for the sixth-straight year and the St. Louis Business Journal named Moneta as one of its "Best Places to Work" for a fifth-straight year.
Release ID: 88925372